Leica unveils X Vario zoom compact with DNA of the Leica M

The Leica X Vario offers the unique combination of an unusually large CMOS sensor(size APS-C (23.6 x 15.7 mm) with 16.5/16.2 million pixels (total/effective), format aspect ratio 3:2). with a high performance autofocus zoom lens-Leica Vario-Elmar 18-46 mm f/3.5-6.4 ASPH, in a compact camera. Even with a maximum aperture of f/3.5, this combination allows the creative use of planes of sharpness to lend images incomparable plasticity and depth. The wide-angle to telephoto zoom range of the Leica X Vario offers great scope for creative composition, whether used for capturing indoor scenes, sweeping landscapes or intimate portraits.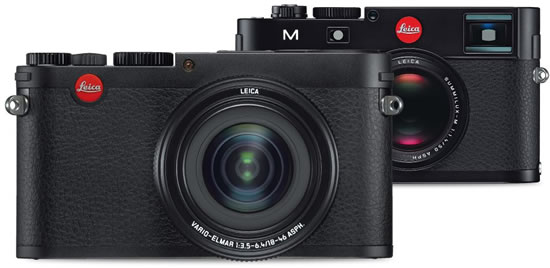 Even at first glance, it is obvious that the Leica X Vario contains the DNA of the Leica M. True to the concept of its role model, it also concentrates on compactness and construction, employing only the finest materials. For instance, the top plate is machined from solid aluminum in the same process as that used for the Leica M. The magnesium and aluminum body feels comfortably solid in the hand. At the same time, soft leather trim lends the Leica X Vario reassuring grip characteristics.


When it comes to handling, the Leica X Vario follows the lead of the Leica M and offers a persuasively simple handling concept that is reduced to the bare essentials in all respects. All functions and controls are clearly laid out, and settings can be changed in an instant to meet the needs of any photographic situation. At the same time, the commendably user-friendly menu interface displayed on the high-resolution 3″ monitor provides a clear overview of all settings at a glance.


This compact camera offers a full-HD video recording option with 1920 x 1080 pixels and 30 full frames per second. What's more, the full-HD videos can be saved in Internet-friendly MP4 format and uploaded directly to social media or mobile devices without any need for conversion, allowing inspiring moments to be shared with friends in HD videos. An integrated wind-cut filter ensures super audio clarity.


Just like the Leica X2, the Leica X Vario is prioritized on achieving one particularly crucial goal: the sheer joy of photography – whether for casual shots or carefully arranged compositions. This is made possible by the ability to switch between automatic and manual control in a split second. The precise click-detent dials on the top plate allow manual pre-selection of the required shutter speed and aperture values. In addition, the required focusing distance and focal length can be set via the focusing ring on the lens.


The superior performance of the Leica X Vario is revealed in naturally lit situations, and is enhanced by its lens hood. But the camera also shows its true strengths in difficult lighting situations and failing or low light. Thanks to its large sensor and fast Leica lens, it allows exposures to a maximum ISO sensitivity of 12500 and thus offers even greater scope for creative experimentation. The Leica X Vario is simply ready to shoot at any moment – like every true Leica.


The Leica X Vario's autofocus is fast, extremely precise and perfect for spontaneous and discreet photography. It's also ideal for letting you become a part of the action and capturing life's intimate moments. As the autofocus zone can be selected manually to define the desired plane of sharpness, photographers can compose their pictures exactly as they envisage them in their mind's eye.
---
---
---