Nikon announces D800 Multimedia HD-SLR with world's highest effective pixel count–36.3-million pixels
Nikon today announced the highly anticipated D800 HD-SLR, engineered to provide extreme resolution, astounding image quality and valuable video features optimized for professional still and multimedia photographers and videographers. The Nikon D800 incorporates the latest 91,000-pixel 3D Color Matrix Metering III and the Advanced Scene Recognition System, coupled with an improved 51-point AF system for images with amazing sharpness, color and clarity.The new Nikon developed 36.3-megapixel FX-format (35.9 x 24mm) CMOS sensor is ideal for demanding applications such as weddings, studio portraiture and landscape, where there is no compromise to exceptional high fidelity and dynamic range.


For shooting with minimal noise in a variety of lighting conditions, the D800 features a wide native ISO range of 100-6400, expandable to 50 (Lo-1)-25,600 (Hi-2). Nikon engineers have created innovative ways to manipulate light transmission to the sensor's photodiodes, giving users the ability to shoot with confidence in challenging lighting conditions. Contributing to the camera's rapid performance and amazing image quality is Nikon's new EXPEED 3 image processing engine that helps professionals create images and HD video with amazing resolution, color and dynamic range. From image processing to transfer, the new engine is capable of processing massive amounts of data, exacting optimal color, rich tonality and minimized noise throughout the frame. Despite the immense data, the new EXPEED 3 also contributes to energy efficiency, affording the ability to shoot longer.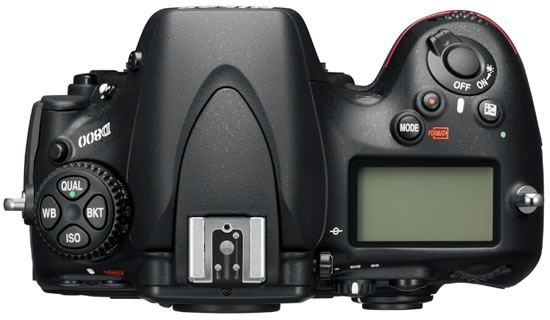 The D800 also features the Advanced Scene Recognition System with the 91,000-pixel 3D Color Matrix Meter III to provide unrivaled metering in even the most challenging of lighting conditions. At the system's core is a newly designed RGB sensor that meticulously analyzes each scene, recognizes factors such as color and brightness with unprecedented precision and then compares all the data using Nikon's exclusive 30,000 image database. Additionally, this new sensor now has the ability to detect human faces with startling accuracy, even when shooting through the optical viewfinder. This unique feature is coupled with detailed scene analysis for more accurate autofocus (AF), Auto exposure (AE), i-TTL flash control and even enhanced subject tracking.The D800 features a new enhanced auto white balance system that more accurately recognizes both natural and artificial light sources, and also gives the user the option to retain the warmth of ambient lighting.

The Nikon D800 is ideal whether the user is a filmmaker on location or in the studio or a documentarian in the field who requires portability and the NIKKOR lens versatility and depth of field that only a HD-SLR can offer. Filmmakers have the choice of various resolutions and frame rates, including Full HD 1080 at 30/24p and HD 720 at 60/30p. By utilizing the B-Frame data compression method, users can record H.264/MPEG-4 AVC format video with unmatched integrity for up to 29:59 minutes per clip (normal quality). This format produces higher quality video data without increasing file size for a more efficient workflow. Whether shooting for depth of field in FX-format mode, or looking for the extra 1.5X telephoto benefits of DX mode, the high resolution sensor of the D800 allows videographers to retain full 1080p HD resolution no matter which mode they choose to best suit the scene. Users are also able to easily compose and check critical HD focus through the 921,000-dot, 3.2-inch LCD monitor with reinforced glass, automatic monitor brightness control, and wide viewing angle.


For professional and broadcast applications that call for outboard digital recorders or external monitors, users can stream an uncompressed full HD signal directly out of the camera via the HDMI port (8 bit, 4:2:2). This output signal can be ported into a display or digital recording device or routed through a monitor and then to the recording device, eliminating the need for multiple connections. This image can also be simultaneously viewed on both the camera's LCD and an external monitor, while eliminating on-screen camera status data for streaming purposes. The D800 also includes features concentrated on audio quality, such as a dedicated headphone jack for accurate monitoring of audio levels while recording. Audio output levels can be adjusted with 30 steps for precise audio adjustment and monitoring.


Whether shooting the runway or fast moving wildlife, the enhanced 51-point AF system of the D800 delivers blazing fast AF with tack-sharp results. Nikon has enhanced the Multi-Cam 3500-FX AF sensor module and algorithms to significantly improve low light acquisition, for precise focus to an impressive – exposure value (EV). The focus system utilizes 15 cross-type AF sensors for enhanced accuracy, and the system also places an emphasis on the human face, working in conjunction with the Advanced Scene Recognition System to provide accurate face detection even through the optical viewfinder.

The chassis is constructed of magnesium alloy for maximum durability, and is sealed and gasketed for resistance to dirt and moisture. Users are able to easily compose through the bright optical viewfinder, which offers 100% frame coverage.For storage, the D800 has dual card slots for CF and SD cards, and offers users the ability to record backup, overflow, RAW/JPEG separation, and the additional option of shooting stills to one and video to the other. For high speed recording and transfer, data can be recorded to recent UDMA-7 and SDXC / UHS-1 cards.


In addition to the D800, Nikon will also be releasing a supplementary model for those professionals who demand even higher resolution and D-SLR versatility; the D800E. This model treads in medium format territory for studio work or landscape photography when there is no exception to only the highest fidelity and sharpness.The Nikon D800 will be available in late March for the suggested retail price of $2999.95.1 The D800E version will be available in mid April 2012 for a suggested retail price of $3,299.95.

---
---
---