Nikon1 J4 with world's fastest continuous shooting with AF tracking announced
Nikon today announced the release of the new Nikon 1 J4, the latest addition to the J series of Nikon 1 advanced cameras with interchangeable lenses that propose new forms of imaging expression. The superior AF-tracking performance of the Nikon 1 J4 enables capture of even moving subjects in sharp focus. It offers 105 focus points with phase-detection AF and 171 focus points with contrast-detect AF. 105 densely packed focus points positioned over a broad range of the frame ensure precise acquisition of moving subjects. The NIKON 1 J4 supports high-speed continuous shooting at the world's fastest continuous shooting rate of approximately 20 fps with AF tracking, and up to 60 fps when focus is locked.


The Nikon 1 J4 captures images exhibiting excellent detail and very little noise over a broad range of sensitivities, from ISO 100-12800. In addition, it is equipped with a noise-reduction function that effectively suppresses noise, even with shooting in dark surroundings, by taking multiple shots that are then combined to create a single photo exhibiting superior image quality. 20 frames are automatically recorded at high speed shortly before or after the shutter-release button is fully pressed. From these, users can choose the best shots for storage.

The Nikon 1 J4 is equipped with a 3-inch, approximately 1037k-dot, electrostatic touch screen with which touch operations can be used to focus and track subjects, making shooting simpler and more intuitive. Equipped with 18.4-million pixels, a super high-speed AF CMOS sensor with no low-pass filter, and the latest EXPEED 4A image-processing engine, the Nikon 1 J4 offers superior image quality.

1920 x 1080/60p full-HD movies up to approximately 10 minutes in length can be recorded. The electronic vibration reduction (e-VR) function built into the camera can be used to process movies to reduce the effects of camera shake that occurs with movie recording. The camera records full-sized still images automatically while movies are being recorded. The maximum number of photos that can be taken during recording of a single movie is 20.

Nikon 1 J4 is equipped with a number of advanced features that allow users to easily capture images as intended. Among these are a TFT LCD touch screen that enables intuitive operation, built-in Wi-Fi for simple transfer and sharing of high-quality images, and a variety of functions for recording 1920 x 1080/60p full-HD movies, including Fast Motion, Jump Cut, and 4-second Movie.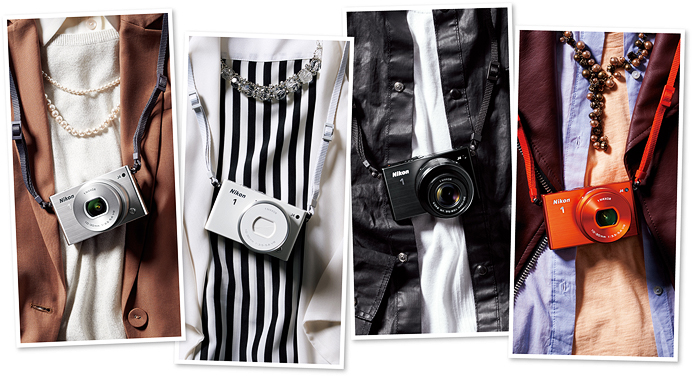 An elegant design has been achieved with a seamless, square form and use of materials with a metallic feel that makes the camera seem solid. In addition, the NIKON 1 J4 is available in four colors, including a distinctive orange. Lenses sold as part of lens kits with camera bodies also come in the same color as the camera body, allowing users to enjoy coordinating their camera and lens for an integrated look even with an interchangeable-lens camera.
Sample image:

---
---
---