Nikon announces Laser Rangefinder Forestry Pro with three-point measurement
Nikon Vision,a subsidiary of Nikon today announced the Forestry Pro, a laser rangefinder with three-point measurement capability. The Forestry Pro has been developed based on the Forestry 550, released in 2008, to meet the demands of the forestry industry for more functions to conduct simple measurements. The Forestry Pro is equipped with three-point measurement in addition to the conventional vertical separation. Three-point measurement provides the difference in height between two targets by measuring horizontal distance to a target then angles to the target base and the top. It is very useful when the laser beam is blocked by the bushes or branches that cover the base or top of a tree.

When three-point measurement is achieved, the height between points 2 and 3 is displayed on the internal LCD with Hor Hgt + Hgt2 (solid), and Hgt (2) and Ang (2) are shown on the external LCD. Points 2 and 3 can be reversed.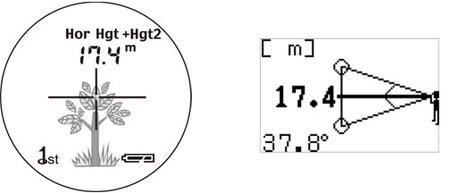 The results are displayed on both internal and external LCD panels. The external panel displays all results simultaneously. Measurement can be displayed in feet as well as meters and yards. Nikon Forestry Pro measures 130 x 69 x 45 mm and weigh 210 g(no battery).
---
---
---