Olympus announces its new premium flagship interchangeable lens camera -OM-D E-M1

Olympus today announced the OM-D E-M1, its new premium flagship camera and worthy Micro Four Thirds successor to the Olympus E-5 DSLR. The E-M1 has a revolutionary design for advanced photographers looking for a high-performance tool in a compact system camera package. The powerful E-M1 is packed with incredible speed and image quality that rivals full-frame DSLRs, in a portable yet lightweight body designed to go anywhere. The Olympus OM-D E-M1 works seamlessly with all ZUIKO Digital lenses, in addition to working with M.ZUIKO Digital lenses, so photographers can enjoy optimum performance of the entire Olympus lens lineup.



With the OM-D E-M1, experience the highest image quality of any Olympus camera through the combination of a new 16.3 megapixel Live MOS sensor, a new TruePic VII image processor, and its best-in-class M.ZUIKO lenses. The TruePic VII image processor reduces noise and color fading at high ISOs for improved image reproduction. New Fine Detail Processing II technology configures the appropriate sharpness processing for each individual lens for natural, high-quality resolution, as well as reducing compression artifacts when recording movies.


The newly developed DUAL FAST AF selects the ideal method, depending on lens type and settings: either 37-point On-Chip Phase Detection AF or 81-point Contrast Detection AF to maximize the performance of both ZUIKO and M.ZUIKO lenses. The TruePic VII engine supports 10 frames-per-second shooting with a 41-picture RAW buffer in single autofocus (S-AF) mode and 6.5 frames-per-second shooting with a 50-picture RAW buffer in continuous autofocus (C-AF) mode.


The E-M1's advanced, built-in Interactive Electronic Viewfinder features a 1.48x (35mm equivalent of .74x) magnification factor that rivals full-frame DSLR cameras. The extremely high-resolution 2.36 million-dot LCD panel provides a large, clear image that is on a par with optical viewfinders. Tracking moving subjects is completely natural, with a display time lag of only 0.029 seconds. The Olympus E-M1's built-in 5-Axis Image Stabilization with Multi-Motion IS mechanism reduces the effects of camera motion and image blur from five directions. Whether shooting stills or HD video, even the motion blur caused by walking or running is stabilized.


The Olympus OM-D E-M1 expands the dustproof and splashproof capabilities of the E-M5 even further with freezeproof capabilities — guaranteed operation down to 14 ºF — for the best environmental resistance of any Olympus interchangeable lens camera. Its durable magnesium alloy body, and weather-resistant seals and gaskets block moisture and dust for use in any environment, without sacrificing image quality. The camera's Supersonic Wave Filter (SSWF) dust reduction system vibrates at a at a super-high speed of more than 30,000 times per second to powerfully remove dust particles so users can shoot in dusty environments.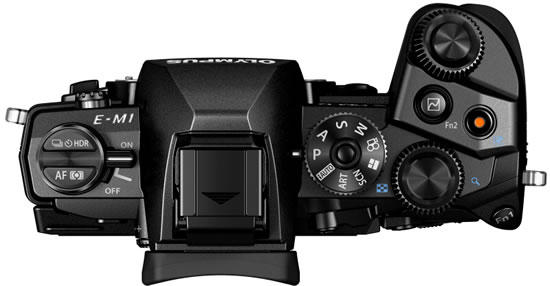 Advanced photographers will appreciate the intuitive 2×2 Dial Control system to easily adjust four often-used functions with the camera's lever or two dials: aperture/shutter speed, exposure compensation, ISO speed and white balance. A built-in grip similar to that of the E-M5 makes shooting with Four Thirds lenses more comfortable, and all frequently accessed buttons are logically laid out. The Olympus OM-D E-M1 includes built-in Wi-Fi, and the set-up is simple. By quickly scanning the QR code displayed on the camera's LCD with a smart device, it syncs with the Wi-Fi network created by the camera.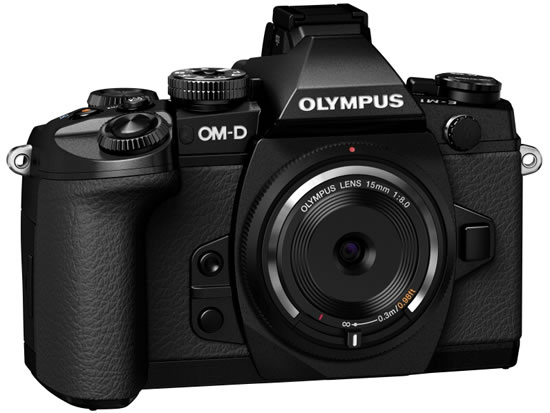 The M.ZUIKO Digital ED 12-40mm f2.8 PRO lens (24–80mm, 35mm equivalent) is the first model in the new M.ZUIKO PRO category and is scheduled for release at the same time as the Olympus OM-D E-M1. It features dustproof and waterproof performance, toughness and excellent image quality. Its mount employs the same type of sealing as the camera body and is Movie & Still Compatible (MSC) with high-speed, near-silent autofocus during still shooting and high-definition (HD) video capture.


Several new accessories are designed to complement the Olympus OM-D E-M1 and broaden the creative horizons of all advanced photographers. The HLD-7 Power Battery Holder is a dustproof and splashproof power battery holder that can enable the capture of approximately 680 shots (based on CIPA tests) between charges. It features a shutter button for shooting with the camera held vertically and two control dials and two function buttons for the same easy controls as when shooting from a horizontal position. The Olympus OM-D E-M1 body( Black) will be available in October 2013 for approximately $1399.99.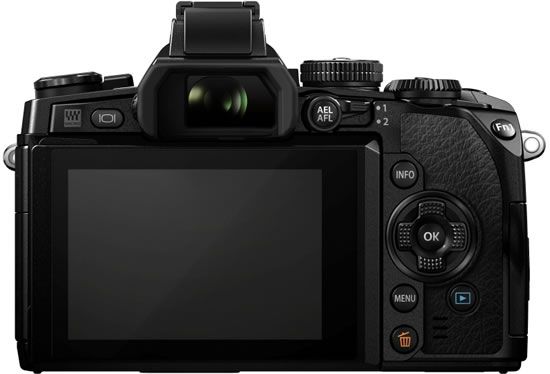 ---
---
---