Olympus E-5 professional DSLR offers HD video in an E-System DSLR for the first time

Olympus E-5 is a new digital single lens reflex (DSLR) camera that is built on the company's tradition of innovation to meet the rigorous demands of professional photographers and experienced amateurs.The Olympus E-5 camera achieves the highest image quality of any Olympus camera by pairing a 12.3 megapixel High-Speed Live MOS Sensor with a TruePic V+ image processing engine that boasts new "Fine Detail Processing" technology for greater detail in the photograph. To prevent image blur caused by camera shake, the E-5 camera employs in-body Mechanical Image Stabilization to compensate for camera movement up to 5 steps EV and delivers blur-free images taken with any of the ZUIKO DIGITAL lenses available for the camera.

Whether composing still images or HD video, photographers will appreciate the E-5 camera's 270 degree dual axis swivel 3.0-inch Live View LCD because it covers all the viewing angles from low to high and side to side, ensuring accurate composition and providing opportunities for creativity. The LCD displays 920,000 dots in vivid color and includes HyperCrystal technology.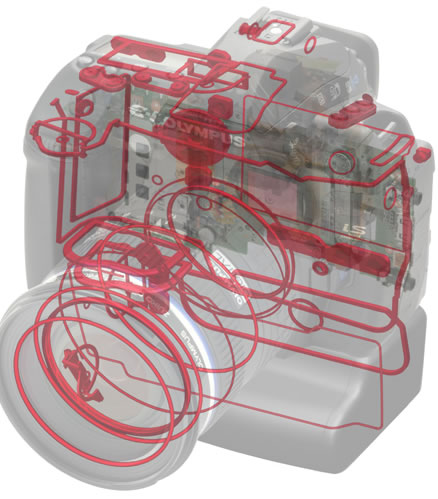 The E-5 camera's sealed lightweight "thixomold" magnesium alloy chassis is completely splashproof and dustproof for optimal performance with pro lenses on expeditions to the most extreme environments on the planet.


A durable shutter mechanism with the lifespan of 150,000 exposures meets the demands of serious photographers. The E-5 camera's large optical viewfinder provides a 100 percent accurate view to ensure photographers do not miss a shot. The E-5 camera also features five frames-per-second continuous shooting and a 1/8000 second top shutter speed required for shooting situations when you are capturing fast-moving subjects.


Accepting both CompactFlash Type I UDMA and SD cards (SDHC/SDXC compatible), Olympus E-5 professional DSLRprovides a choice of data storage options for enhanced flexibility, and it is possible to transfer image files from one card to the other right inside the camera. Class 6 or higher SD cards are recommended for optimal movie shooting.


The camera captures all the action in crisp 720p HD video at 30 frames per second. With more than 20 Four Thirds lenses, people can shoot video with a selection of lenses ranging from an extreme wide-angle fisheye lens to a super telephoto lens for a variety of expressive options. Photographers can capture great stereo sound quality by plugging any microphone with a standard 3.5mm jack into the camera's stereo microphone terminal. A built-in microphone also records clear monaural audio.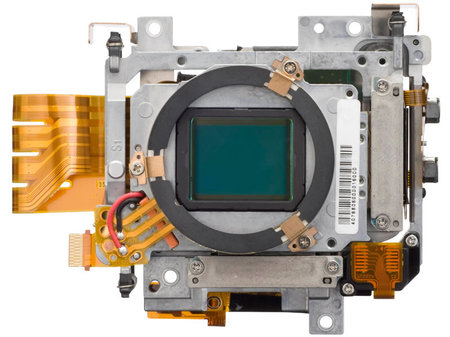 The E-5 camera also features an award-winning built-in Dust Reduction System that eliminates spots from photos with the exclusive Supersonic Wave Filter. The Olympus E-5 camera will be available in October 2010. It includes the E-5 Body, USB Cable, Video Cable, Li-Ion Battery Pack (BLM-5), Li-Ion Battery Charger (BCM-5), Shoulder Strap, OLYMPUS software CD-ROM, Manuals and Registration card.

ign: center; display: block; margin: 0 auto 20px;" />
---
---
---