Olympus E-PL1- first Olympus PEN series camera with a built-in pop-up flash

The Olympus E-PL1 is the first camera in the Olympus PEN series with a built-in pop-up flash that makes it easy to illuminate low-light subjects, reduce red-eye and fill in dark areas. Recording HD movies with the E-PL1 is simple, thanks to an easy-to-reach red "direct button" (red record button) on the back of the camera body. Any lens (Micro Four Thirds, Four Thirds and any third-party lens) attached to the E-PL1 will deliver blur-free images thanks to three modes of In-body Image Stabilization.


At the heart of the E-PL1 is a large-size image sensor that's the same sensor as the one inside the Olympus E-30 and E-620 DSLR models. The only difference between this sensor and what the pros use is that this big sensor is inside the much smaller body of the E-PL1. This high-performance 12.3-megapixel Live MOS image sensor (eight times larger than the average point-and-shoot camera sensor) delivers excellent dynamic range, accurate color fidelity, and a state-of-the-art amplifier circuit to reduce noise and capture fine image details in both highlight and shadow areas.

The new Olympus PEN E-PL1 is truly greater than the sum of its parts, with a surprisingly small camera body packed with technology normally found in bigger, bulkier and heavier professional Digital Single Lens Reflex (DSLR) cameras and High-Definition (HD) camcorders.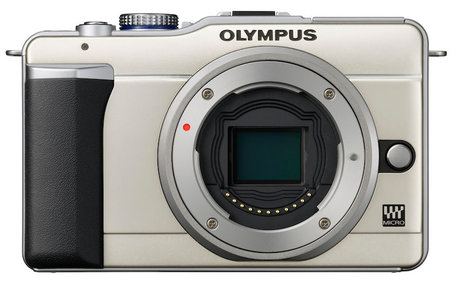 The Olympus E-PL1 will be available in March 2010 for approximately $599. It includes the E-PL1 Body, M. ZUIKO DIGITAL ED 14-42mm f3.5/5.6 Zoom, USB Cable, Video Cable, Li-Ion Battery Pack (BLS-1), Li-Ion Battery Charger (BCS-1), Shoulder Strap, Olympus software CD-ROM, Manuals and Registration card.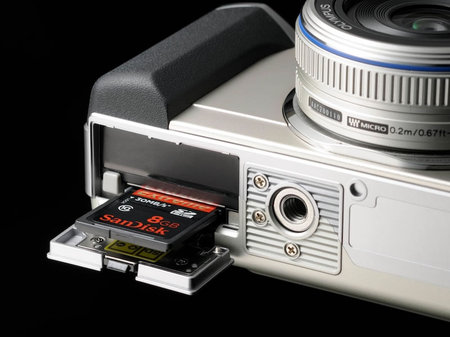 ---
---
---