Panasonic 3D Scanning System Creates a one-of-a-kind 3D Figurine Using 120 Lumix GH4 Cameras
A photo-based 3D scanning system that can shoot images at 1/1000s opened in the Panasonic Center Osaka, last week. The 3D scanning system with 120 Lumix GH4 cameras set up all around the subject will simultaneous capture images in one thousands of a second. It will capture every detail from a single motion, a single strand of hair, and even the details and textures of your clothing. The main feature of this system is that it is equipped with 120 Lumix GH4 cameras that can synchronously shoot images at one thousands of a second. 120 LUMIX GH4 will capture images with over 2 billion pixels of information, which is then used to calculate 3D information. By capturing images from all angles without any blind spots the system can create a complete 3D model (1/10 size (of the actual length 1/10. Height of 17cm If you are a tall 170cm).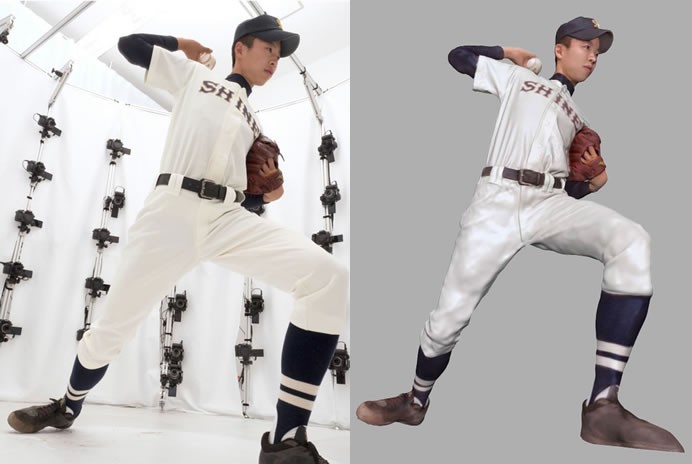 When shooting with a handy scanner, the subject must stand still for approximately 10 minutes, but with the 3D PHOTO Lab.'s photo-based scanning system at Panasonic Center Osaka, you don't have to stand still for a long time. These cameras can shoot fleeting expressions and even the slightest movement of hair and clothing. With over 2 billion pixels, it provides extremely rich color information, enabling the system to create vivid 3D figurines.

This system can also shoot 2 people at a time, so parents with their children, friends or couples can get their images taken together. Customers can purchase 3D Premium Figurines on Panasonic's online shopping site, Panasonic Store. All you have to do is make a reservation for the 3D scanning system at the Panasonic Center Osaka, and once you've done the shoot, you'll receive the figurine in about 3 weeks (Deliveries available within Japan only). Basic charge is approximately 55,000 yen ($442) taxes extra.
---
---
---