Panasonic announces Worlds smallest and Lightest System Camera- LUMIX DMC-GF3
The mirror-free Panasonic LUMIX DMC-GF3 is the company's smallest and lightest digital interchangeable lens camera with a built-in flash, with its body size comparable to that of a smartphone. Thanks to a new mount, the LUMIX GF3 is approximately 16.7% smaller and 16.2% lighter than its predecessor, the LUMIX GF2. Despite its small size and unlike many CSC cameras in this class, the LUMIX GF3 still maintains a built-in flash and features a new pop-up mechanism that helps prevent the vignetting effect due to short distances between the flash unit and the interchangeable lens. With a newly-designed aluminum body that incorporates an ergonomic grip, and a well-designed control dial combined with a 3-inch touch enabled screen, the LUMIX GF3 is extremely intuitive and easy to use.
The DMC-GF3's image quality comes from a large DSLR-sized 12.1-megapixel sensor and newly advanced image processing technologies. The LUMIX GF3 digital camera is based on the Micro Four Thirds standard of lenses, which includes Panasonic's 3D lens, thus the LUMIX GF3 not only provides outstanding still photos, full-High Definition 1080/60i video, but is also capable of shooting 3D still photos.

The Panasonic LUMIX GF3 boasts full sized DSLR like Image quality thanks the same Venus Engine FHD image processor. The Venus Engine FHD image processor makes impressive low noise images from its 12.1-megapixel Live MOS sensor. The image processor also excels in energy consumption by extending the battery life, despite its smaller size.


Manual control over focus is available in the DMC-GF3 and now features a quick 4x magnification feature. By simply touching the subject, that subject is then enlarged in a small window, allowing you to keep the rest of the image in view as a framing reference. For those who miss the tactile feel of a traditional DSLR mode dial, the DMC-GF3 offers an innovative mode thumb wheel that quickly cycles though all available modes with visual feedback provided on the large 3'' touch-enabled LCD. The LUMIX GF3 records 1920 x 1080 full-HD video in the AVCHD format, which features almost twice the recording time in HD quality than the conventional Motion JPEG. A dedicated video record button on the top lets users instantly start recording video, without having to hassle with any menu settings.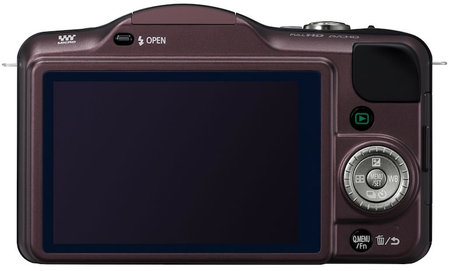 At the heart of the LUMIX GF3's simplified functionality is a large 3.0-inch touch enabled LCD (460k- dot) that allows for intuitive touch control of menus and most shooting, focusing, playback and effects controls. Menus can be customized using simple drag-and-drop actions similar to those on some touch-enabled smartphones. With increased customization, users can set the touch shutter and touch AF ON/OFF based on their preference. Touch-control also makes playback of photos and videos easy to flip through like pages in a book.

The LUMIX GF3, like all CSCs in the Panasonic LUMIX G Series, is equipped with a highly-efficient Dust Reduction System. The Panasonic Dust Reduction System helps to eliminate this problem by placing a supersonic wave filter in front of the Live MOS sensor that vibrates vertically approximately 50,000 times per second – thus repelling dust and other particles from the LUMIX GF3's sensor.


The LUMIX GF3, like all the CSC in the LUMIX G Series of digital cameras, is compatible with other Micro Four Thirds lenses and the full sized Four Thirds System standard via an optional mount adaptor. Other accessories available to the LUMIX G Series include external flashes, PL and ND filters, leather cases, straps, and more. The Panasonic LUMIX GF3 will be available in black, white, red and brown bodies for a suggested retail prices of $699.99 with the 14mm lens kit system starting in July 2011, and $599.99 with the 14-42mm lens kit system starting in late August 2011.
---
---
---