Panasonic DMC-GF1- World's smallest and lightest DSLR with built-in flash

The new Panasonic Lumix DMC-GF1 debuts as the world's smallest and lightest system camera with built-in flash. The DMC-GF1 features an elegant, compact flat body and combines great performance with ultimate operating and shooting ease. The DMC-GF1 does not contain the pentaprism found on other standard interchangeable lens cameras. This mirror-less structure allows for an extremely thin neo-classic body design and significantly reduces the size of the G1 by 35% and its weight by 26%. Despite its size, the GF1 comes equipped with a built-in flash and boasts a large, 3.0-inch Intelligent LCD with a wide viewing angle and full 460,000-dot resolution. The Intelligent LCD offers extremely fine, automatic backlight control in combination with high resolution for outstanding viewing in sunny outdoor or dim indoor situations. The 4/3-type 12.1-megapixel Live MOS sensor in the GF1 offers the best of both worlds – the superior image quality of a CCD sensor, and the lower power consumption of a CMOS sensor. It can deliver up to 60 frames-per-second Full-time Live View images, while reproducing images with fine detail and rich gradation.


The Panasonic Lumix DMC-GF1 camera is capable of recording vivid still shots, as well as smooth, beautiful motion pictures. It also features the advanced AVCHD Lite movie for recording extended HD movies, networking with other AV devices and recording in the Motion JPEG format for greater compatibility with PCs. The DMC-GF1 also features My Color mode with a total of seven preset effects – Expressive, Retro, Pure, Elegant, Monochrome, Dynamic Art, and Silhouette while inheriting the previous Custom mode that lets users manually set the color, brightness and saturation levels. With the Live View function, users can see how these settings will affect the photo even before they shoot.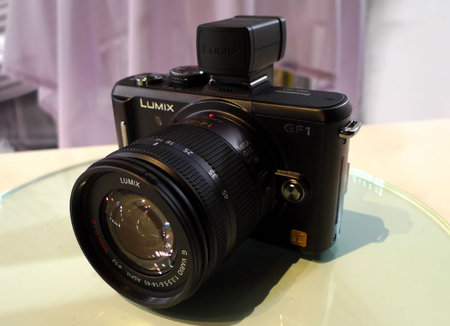 The Panasonic DMC-GF1 comes with unique functions that include exposure meter, aperture preview and shutter speed preview through the live view. The new Panasonic Lumix DMC-GF1 comes in four attractive body colors: true black, active red, sleek silver, and clean white. Panasonic DMC-GF1- World's smallest and lightest DSLR with built-in flash measures 119 x 71 x 36.3mm and weigh approximately 285g (body only).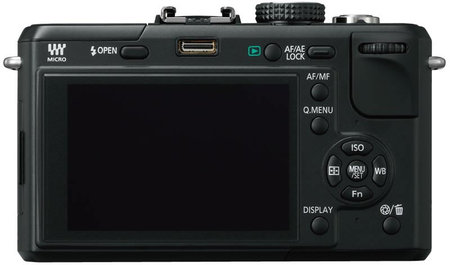 ---
---
---