Pentax announces X-5 superzoom digital camera with classic Pentax styling

Pentax Ricoh today announced the introduction of its Pentax X-5 digital camera, an ideal choice for photographers who want to easily capture beautiful, high-quality images of a wide variety of subjects and scenes. Featuring a powerful high-magnification optical 26X super-telephoto zoom lens, the new Pentax X-5 provides photographers with a focal length of 4mm-104mm (22.3mm ultra-wide angle to 580mm super telephoto 35mm equivalent).



The Pentax X-5 features a large tiltable 3.0-inch, high-definition LCD screen that offers sharp image viewing, even in bright sunlight, while allowing users to shoot from high and low angles to keep the subject neatly framed in the image area. By combining a state-of-the-art image processing engine and back-illuminated CMOS image sensor with low-noise, even up to ISO 6400, and approximately 16.0 effective megapixels, the Pentax X-5 provides users with very high-resolution images.


Coupled with the camera's Macro mode, which allows photographers to capture dramatic close-up images of subjects as near to the lens as 0.4 inches, the X-5 delivers an extensive range of creative photographic possibilities.


The X-5 features an electronic viewfinder with diopter adjustment for a clear view of the subject even under bright sunshine. The X-5 features a Full HD movie recording function employing the h.264 recording format. The user can capture high quality; extended movie clips (1920 x 1080 pixels at a 16:9 aspect ratio) at a frame rate of 30 frames per second.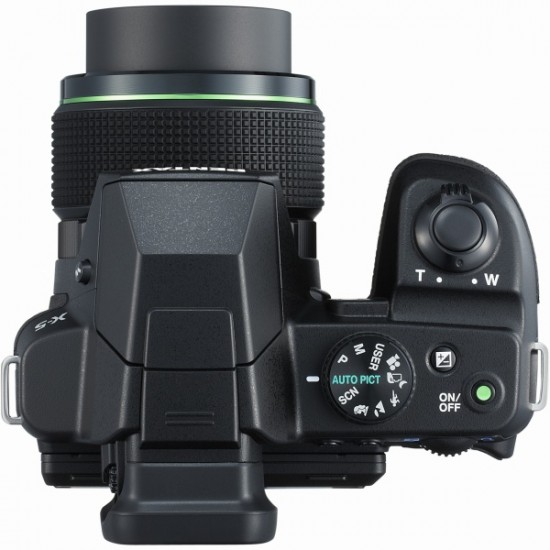 The camera also offers creative movie playback features, such as High-speed Movie mode for slow-motion playback and Time-lapse Movie mode for fast-forward playback, and features a micro-HDMI terminal (Type D) for the output of recorded movies and sound to external devices.


The new PENTAX X-5 will be available from September 2012 with a suggested retail price of $279.95.
Sample image:

---
---
---