Pentax 645D- Designed to be the Top of Medium-Format Digital SLR Cameras

Pentax today announced the launch of the Pentax 645D lens-interchangeable, medium-format digital SLR camera. Thanks to the incorporation of a large image sensor, equal in performance to professional-standard digital camera backs, this high-performance Pentax 645D lens-interchangeable, medium-format digital SLR camera delivers super-high-resolution images with approximately 40 effective megapixels. It also offers outstanding dependability and superb operability and maneuverability to make outdoor shooting effortless and comfortable for demanding photographers.


The Pentax 645D incorporates a high-performance CCD image sensor produced by Kodak. It measures 44mm by 33mm, and is approximately 1.7 times larger than its 35mm-format counterparts. Thanks to approximately 40 effective megapixels, it assures a wide dynamic range to faithfully reproduce the prevailing ambience and the sense of depth in super-high-resolution images that are rich in gradation and truthful in texture description.


The Pentax 645D features the acclaimed, Pentax-original PRIME (Pentax Real Image Engine) II as its imaging engine. Thanks to its high-speed data processing capacity and new algorithm exclusively programmed for medium-format digital SLR cameras, this high-performance imaging engine produces super-high quality images rich in gradation and faithful in color reproduction, while allowing speedy data transmission of large-volume image data — even RAW-format images as large as some 50MB per file.


The Pentax 645D's main frame is made of lightweight but strong magnesiumsteel alloy, while the chassis is made of diecast aluminum to minimize the expansion and extension caused by heat and also to optimize kinematic accuracy and thermal stability.


The LCD panels — one on the camera's top panel, another on the back panel — are covered with tempered glass plates for extra protection. The Pentax 645D's body is also designed to be a compact and highly maneuverable mediumformat camera, despite the incorporation of such dependable features as a dust-proof, weather-resistant construction with 70 special seals, outstanding cold-resistant performance to assure solid operation at a temperature as low as –10°C.


A newly designed shutter unit with a top shutter speed of 1/4000 second that can withstand as many as 50,000 shutter releases.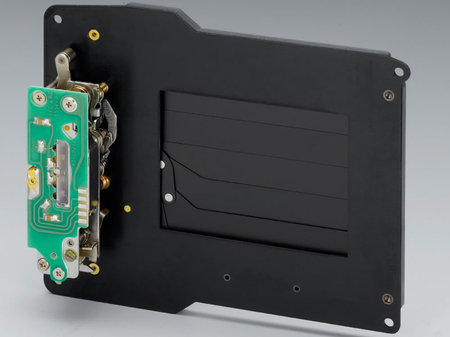 Incorporated in the Pentax 645D's finder unit, a trapezoid-shaped glass prism not only assures an approximately 98% field of view, but also greatly contributes to the downsizing of the camera body. Coupled with a bright, easy-to-focus Natural- Bright-Matte focusing screen, the PENTAX 645D's viewfinder offers a large, clear view of the subject.


The Pentax 645D has a pair of memory card slots for the recording of images on both SD and SDHC memory cards. This dual-slot design gives the photographer extra data-storage options: for instance, recorded images can be assigned to different cards according to recording format (such as RAW or JPEG), or one of the cards can be used as the backup of the other. The settings for each memory card slot can be easily made by dedicated button.


The Pentax 645D is powered by a large-capacity, rechargeable lithium-ion battery, which can capture approximately 800 images when fully, charged.

---
---
---