Pentax announces worlds smallest and lightest interchangeable lens camera-Pentax Q

Pentax today announced the Pentax Q – the world's smallest and lightest interchangeable lens camera. The Q offers the versatility and precision of an advanced DSLR in a body that is significantly smaller than every other digital ILC body available on the market today.The camera's tiny size, lightweight design, and superior image quality are made possible by an innovative Pentax developed imaging system.


With a high-resolution 12.4 megapixel, 1/2.3 inch CMOS image sensor, the Q carves out an entirely new camera category that extends beyond traditional digital compact, APS-C or 4/3 digital cameras. The backlit sensor is a highly efficient light-gathering instrument that produces very little noise at high sensitivity levels particularly in low light settings.

Further, the new Q lens mount is a perfect match with the new sensor and every interchangeable Q lens is designed for more advanced image quality than may be found on traditional compact digital cameras. This innovative Pentax design is the foundation of the Q's position as the world's smallest, lightest ILC system with superior image quality.


Shutter speeds range from 1/2000 to 30 seconds for freezing fast action or capturing long nighttime exposures. Bulb mode adds flexibility for low light photography and motion effects. The lens shutter mechanism allows the Pentax Q's built-in auto flash to be synchronized to the camera's top shutter speed of 1/2000 second (or 1/250 second when using an accessory flash unit).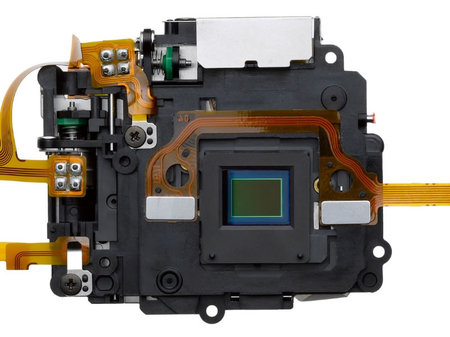 A built-in popup flash adds the perfect amount of extra light to an image with a high extension to naturally reduce the redeye effect common to compact cameras. The Q's flash is effective to 23 feet at 200 ISO, and covers a wide angle 28 degree field of view.


The shoe-mounted viewfinder attachment is an optional accessory. This External Viewfinder O-VF1 offers outstanding compositional framing, even in the brightest sunlight where viewing an LCD screen is traditionally a challenge.


Available in white or black body models, the Pentax Q and Standard Prime lens (available in silver) kit will be around $800. Initially, the Pentax Q system will ship in Japan. Anticipated shipping time to the United States is early Fall 2011. The optional shoe-mounted viewfinder will be available at the same time for $249.95.

---
---
---