Point Grey Ladybug 5 camera uses six high sensitivity 5 MP Sony ICX655 CCD image sensors for superb image quality

Point Grey manufacturer of innovative, high-performance digital cameras recently announced the release of the all-new Ladybug 5 camera. The LD5-U3-51S5C camera uses six high sensitivity 5 MP Sony ICX655 CCD image sensors; five CCDs are positioned in a horizontal ring and one is positioned vertically pointing upwards. The Ladybug5 is the next-generation version of the popular Ladybug series of 360-degree cameras, and continues Point Grey's long-standing leadership in spherical imaging. The new LD5-U3-51S5C redefines past performance benchmarks, boasting an impressive 30 megapixels (MP) of total resolution covering 90% of a full sphere; a 5Gbit/s USB 3.0 interface; and a ground-breaking post-processing workflow that provides high dynamic range, superb image quality and maximum user flexibility.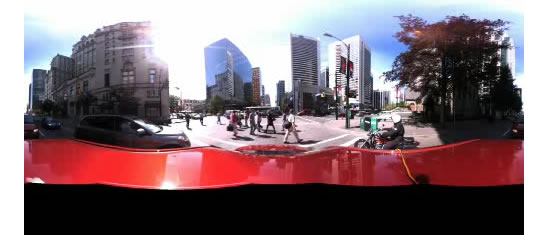 The Ladybug5 spherical imaging system is an excellent choice for applications in geographic information systems (GIS); vehicle-based photogrammetry; situational awareness; and entertainment solutions for lighting models, full dome projection content, and other immersive experiences. The Ladybug5 LD5-U3-51S5C-44 (black or red enclosure) camera is list priced at USD $19,995 and is available to order now from Point Grey and its network of distributors.

---
---
---