Ricoh Caplio GX100 with Removable Electronic Viewfinder

The new Ricoh Caplio GX100 is the successor to the popular Caplio GX8, launched May 2005. The Caplio GX100 is a high-performance camera packed with advanced functions including a 24 to 72 mm equivalent high-performance wide zoom lens (Caplio GX8: 28 to 85 mm equivalent) that can be expanded to even ultra-wide-angle shooting equivalent to 19 mm using the optional wide conversion lens, being the first digital camera to support a removable electronic viewfinder (LCD viewfinder), and high image quality thanks to the 10.01 megapixel effective. Ricoh Caplio GX100 the first camera to support a tilted and removable electronic viewfinder and offers 100% viewfinder coverage without parallax and multi information display similar to a LCD monitor.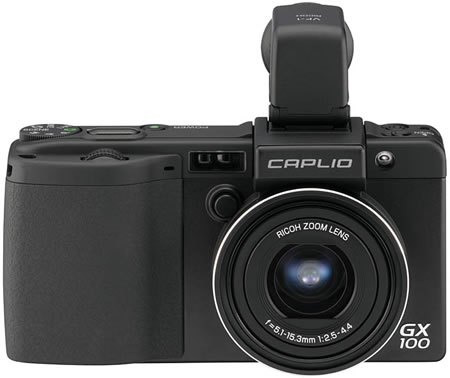 The Caplio GX100 gets approximately 380 exposures with the included high-capacity rechargeable batteries or approximately 35 exposures using AAA dry batteries. The optional AC adaptor, which is convenient for indoor shooting, can also be used as a third power source.

With Ricoh Caplio GX100 Images can be captured in various combinations of resolution and compression. RAW compression and RAW with JPEG can be selected for ultimate quality. The camera measures 112 x 58 x 25 mm, weighs 220g. GX100 with electronic viewfinder included will be available at the end of April 2007 at £399.99 inc vat.

---
---
---