Samsung NX30 camera features tiltable EVF, improved flexibility and fast connectivity

Samsung announced today the professionally-inspired compact system camera NX30, featuring high quality images with faster than ever performance. The Samsung NX30 includes the sophisticated next-generation DRIMeIV Image Processor and a powerful DSP imaging engine that brings an unmatched shooting experience and Full HD 1080/60p movie capabilities. The high light sensitivity of the NX30, with a range from ISO100-25600, produces stunning images even in low light conditions and with OIS Duo technology, steady shots for better movie recording are guaranteed, even while on the move. The introduction of OLED Color to the NX30 records the ultimate contrast and real colors, to make it possible for you capture landscapes that are rich and portraits with natural tones.



Featuring a unique, Tiltable Electronic Viewfinder (XGA, 2,359K-dot resolution), the NX30 makes it easier than ever to discover a new perspective. Whether crowds are obstructing the shot or a more creative angle is desired, the 80 degree tilt means that different viewpoints are simple to achieve. With the ability to move from side to side up to 180 degrees, and upward and downward up to 270 degrees, the NX30′s 76.7mm (3.0-inch) Super AMOLED Swivel and Touch Display offers flexible angles which are especially useful for self-shooting, whether for stills or video capture.


Through Samsung's innovative i-Function system, advanced camera settings such as shutter speed and aperture can be accessed with the touch of one button. For more experienced photographers, i-Function Plus lets users reprogram existing buttons to their preferred and frequently used settings.The new powerful TTL external flash with a Guide Number of 58 makes it simple to capture perfect shots, allowing light to travel further and wider.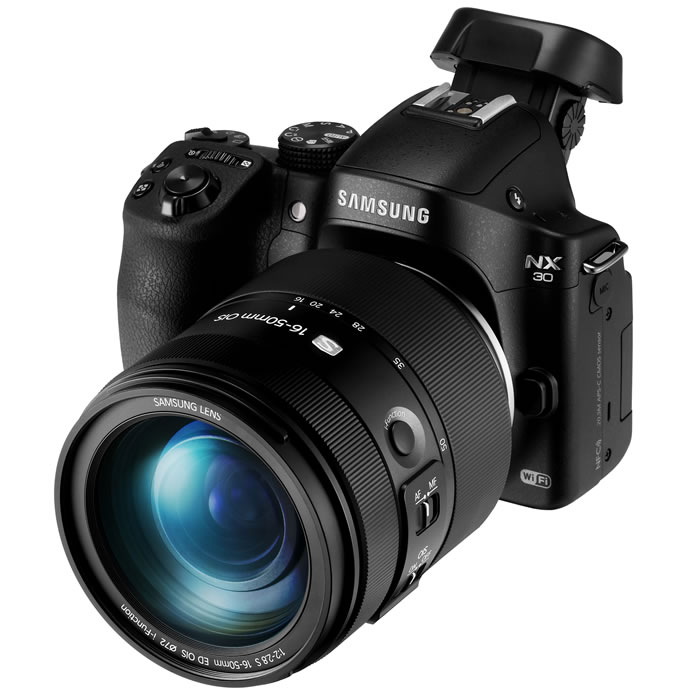 Advanced video features make the NX30 the ideal solution for movie makers searching for a compact yet high performing camera. In addition to Full HD Video Stereo Recording, the NX30 supports a standard 3.5mm microphone input for high quality audio capture while shooting movies.The input level can be manually adjusted to ensure optimal audio quality. The Samsung NX30 is also perfect for advanced video enthusiasts because of its HDMI live streaming with Full HD 30p output that makes it easy to connect with a large screen, recorder, and other HDMI devices.


The Photo Beam feature allows the transfer of an image or video to a smartphone or tablet by simply touching the two devices together with no other configuration needed. MobileLink lets users select multiple images to send to four different smart devices at one time – everyone can treasure the same photos, without needing to take the same shots on each individual device. The Samsung NX30′s NFC and Wi-Fi capabilities offer the next-generation of connectivity, making it is easier than ever to take advantage of a host of intuitive sharing features. The camera measures 127 x 95.5 x 41.7mm (excluding the projection part) and weigh 375 g (without battery).

---
---
---