Sony PXW-X180 professional XDCAM camcorder with XAVC recording capability launched
Sony has launched the PXW-X180 Handheld Solid-State Memory Camcorder, the latest addition to the XDCAM Series. Ideal for broadcast and professional video production applications, Sony PXW-X180 Handheld Solid-State Memory Camcorder features three 1/3" Full HD Exmor CMOS sensors and a newly developed 25x optical zoom Sony G Lens with 26.0 mm wide angle. Sony PXW-X180 records in MPEG HD422 at 50 Mbps, a format widely preferred by broadcasters and production houses today, and XAVC Intra and Long GOP, which enables 10-bit sampling for high definition recording with rich tonal expression. It can also record in MPEG HD420 at 35 Mbps, AVCHD and DV.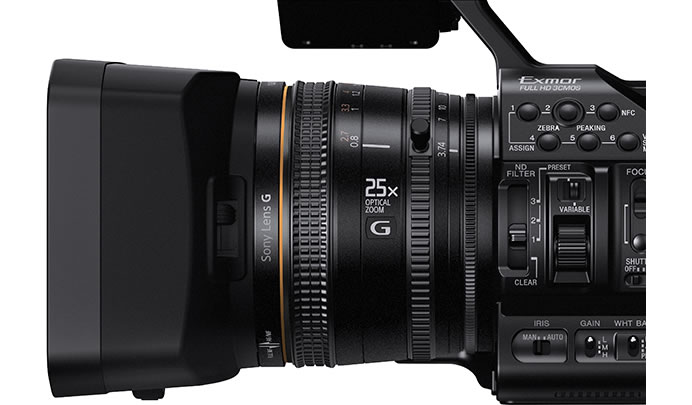 The new camcorder's lens offers Sony G Lens quality, a 26.0 mm wide-angle view, and a 25x zoom range (35 mm equivalent 26 mm to 650 mm), which make it versatile enough to handle a wide range of shooting situations. Independent manual zoom, focus and iris control, all with end-stop, are provided, and a slide mechanism on the focus ring enables easy switching between auto and manual focusing. If desired, the focus indicator can be displayed even when focusing manually.

Three 1/3" Exmor CMOS sensors with a total of about 2.07 million effective pixels (16:9) independently capture red, blue and green light. Combined with the camcorder's high resolution, high-sensitivity and wide dynamic range, this brings outstanding colour rendition. Featuring noise reduction and anti-shake to assure high image quality, the processor provides fine image quality settings for detailed, beautifully textured results.

As well as recording on professional SxS memory cards, the camcorder can record on XQD cards, SD cards and memory sticks with the use of an optional adaptor. Enabling selection of a variety of recording formats and recording media, the camcorder is ready to support a wide range of video production applications. The PXW-X180 is Sony's first professional camcorder to feature a new variable neutral density (ND) filter. This new device has been developed to electronically control density and enable continuous setting adjustment from 1/4ND to 1/128ND with simple dial operation. Using the filter in conjunction with different aperture and shutter speed settings, depth of field and brightness can be adjusted.

A wireless LAN module is included to enable the use of wireless functions. Easy, one-touch operation is all that is required for wireless connection to a smartphone or tablet, which can then be used to confirm the angle of the shot before shooting, monitor recording and operate the camcorder by remote (field angle setting/white balance adjustment/iris adjustment, etc.). The PXW-X180 camcorder will be available in Asia Pacific from August 2014.

---
---
---