Sony Cyber-shot DSC-H3 camera with HDTV output

The new super compact Sony Cyber-shot DSC-H3 camera features an 8.0 megapixel 1/2.5″ sensor and a powerful Carl Zeiss 10x optical zoom lens for those close-up shots you don't want to miss. The Sony Cyber-shot DSC-H3 features HDTV output at full 1080 line resolution. By connecting the new camera to any HDTV set with Sony's VMC-MHC1 high-definition component cable (sold separately), families can see their digital photos the same way they watch their favorite TV shows – in full 1080 HD resolution. The camera is equipped with a built-in slide show function so you can view photos, complete with transitions choreographed to your choice of programmed music clips or by adding your own. The camera comes with a long-range flash that light up subjects farther from the camera. For group shots, moms and dads will appreciate the model's face detection technology. It identifies up to eight faces in the camera's 2.5-inch LCD screen, and automatically adjusts for correctly exposed, sharp photos.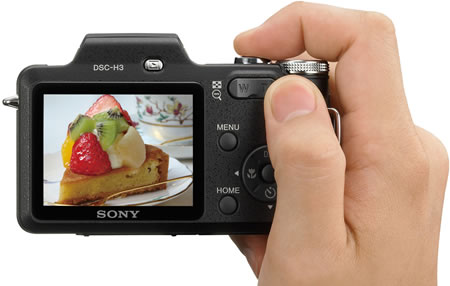 Equipped with Sony's Dynamic Range Optimizer, originally developed for the Sony Alpha digital SLR system, the new Sony Cyber-shot DSC-H3 camera can analyze captured image data, and instantly determine the best exposure and tonality of each picture before JPEG compression. Other helpful in-camera functions include red-eye correction and photo retouching effects with filters. The Sony Cyber-Shot DSC-H3 camera measures106 x 68.5 x 47.5 mm, weigh 380 g (with batt) and will be available worldwide for approximately $300 next month.
---
---
---