Future Sony VISION-S Electric Vehicle Arrives in Tokyo
VISION-S Prototype electric vehicle Sony developed in collaboration with Magna Steyr and others has arrived in Tokyo for advancing sensing and audio technologies. The car represents a fusion of Sony's technology and creativity. It is a glimpse into the future of mobility, encompassing the evolution of safety, comfort, entertainment and adaptability. The VISION-S Prototype – riding in it feels extremely secure. Just sitting in it evokes excitement. Being with it affords a timeless relationship. It is a car that will evolve mobility into an enriching experience. The prototype vehicle is also currently under development for public road testing this fiscal year.
Equipped with Sony image sensor and sensing technology, it supports level 2 equivalent automated driving. There are a total of 33 automotive grade sensors (including Sony CMOS sensors) installed both inside and outside the car. While keeping a watchful eye 360 degrees around the body, safety is also thoroughly monitored when the car is in motion. The sensors provide precise driving assistance, such as advanced cruise control, self-parking and auto-lane change functions, that corresponds to Level 2+ driver assistance. It not only enables safe, secure driving but also allows energy efficient driving and stress reduction. Software updates allow for continual performance upgrades, with the aim of ultimately achieving Level 4 or higher self-driving in the future.

The three large displays in the cabin can be appropriately aligned according to the driver's preference or urgency. For example, the room display (room mirror) in the center can show the view from both sides of the vehicle. The high-brightness and resolution of each display ensures high visibility. If there is glare from the headlights of cars behind, HDR and other signal processing technology will enable the brightness to be adjusted. Sony will aim to leverage its array of sensing technologies to realize this next-generation safety system, providing smart mirrors that offer greater visibility and intelligence than conventional mirrors.

Inside the VISION-S cabin, sensors will monitor the condition of drivers and passengers. The facial expression and body movement of drivers will be used to gauge their concentration and fatigue levels, sending out alerts as necessary. The cabin temperature will be adjusted according to the condition and feelings of passengers. The safety of passengers will not be the only goal – the aim is to also achieve a cabin environment that will be sensitive to people's comfort.
On entering the car, the drivers and passengers will see before them a row of displays that create a wide screen. Going from place to place every day will become a time for people to indulge in the luxury of enjoying movies and other video. The ergonomic user interface will be extremely intuitive, with each driver and passenger able to freely access content. A jog dial will also be installed, allowing fingertip video control, even if the viewer has chosen to recline their seats.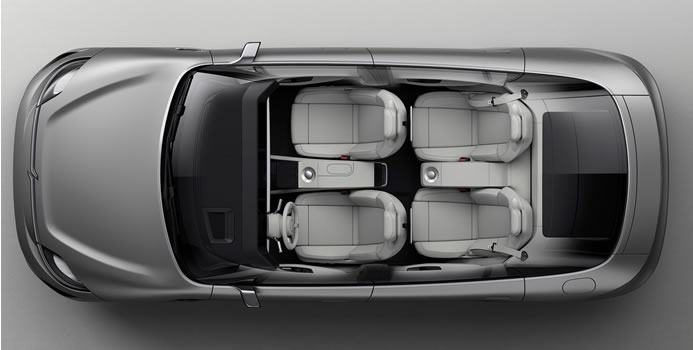 VISION-S is a car that gets closer to and understands you. If it detects a sleeping passenger in the back seat, the car will automatically control the climate around that seat to a suitable temperature. It will keep learning, whether it is about preferred cabin temperatures, music, driving settings, routes, or various other driver and passenger preferences. The aim is to develop a car that learns each time people board it, and develops into an intelligent partner.
Sony wants to create a mobile entertainment space with a field of sound that encapsulates the entire body, a luxurious visual world of moving images, and intuitive user interfaces – all packed within the cabin. Having the body encapsulated by sound from all directions is an unprecedented and immersive audio experience made possible by 360 Reality Audio.
The realistic experience that 360 Reality Audio aims to achieve will be based around the car's seat speakers. The aim is to create a world in which each passenger can enjoy his or her favorite music in their seats with a personalized sound configuration. An optimized speaker layout based on Sony's most advanced audio engineering has been meticulously designed from the ground up. With Sony's audio signal processing technology, this provides an exquisitely real audio experience that best utilizes the cabin space.
The newly designed EV platform enables its application for various uses and car types, not just coupes but also sedans, SUVs and MPVs. A long wheelbase brought about by a compact and highly flexible powertrain layout, which is distinctive of pure EVs, and the development of ultrathin battery packs will provide a best-in-class cabin environment.
---
---
---