Honda Announces Sales of its New Plug-in Hybrid model-Clarity PHEV in Japan
Honda today announced sale of the Clarity PHEV, a new plug-in hybrid model added to the Clarity series, on July 20, 2018 at dealerships across Japan. The Clarity PHEV is a plug-in hybrid model that combines excellent environmental performance and the appealing features of a high-class sedan model such as powerful EV driving performance, high-quality cabin space that comfortably accommodates five adult occupants and a high-capacity cargo space. The Clarity PHEV will be available for approximately 5,445,000 yen ($48,161) invluding taxes in Japan.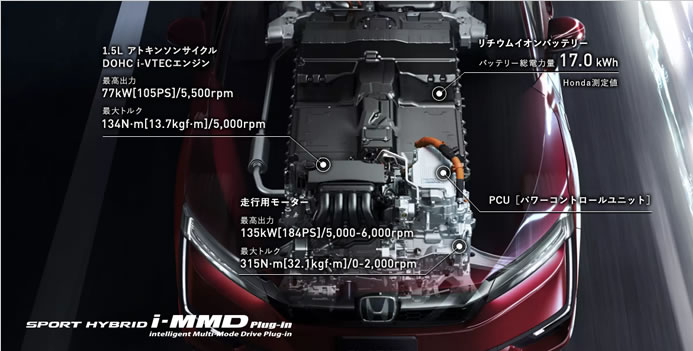 On the basis of Sport Hybrid i-MMD, Honda's innovative 2-motor hybrid system, the performance of electrification components was further improved, including an increase in battery capacity and converter output. As a result, the Clarity PHEV realized EV driving (driving by battery charge) range of 114.6 km. Moreover, the significant increase in driving force used for EV driving resulted in a significant increase in the range where EV driving is sustained, including from start-up to high-speed range.

The Clarity PHEV operates in three different driving modes – EV Drive, Hybrid Drive and Engine Drive – depending on the battery charge status and driving situation, and is able to shift seamlessly from one mode to another to realize highly efficient driving. Honda has been pursuing the development of electrified vehicles with the intention to electrify two-thirds of its global automobile sales by around 2030.

In addition to a charge port for normal charging, the Clarity PHEV features a charge port for fast charging and external power output, both as standard equipment. The fast charge based on CHAdeMO international standards provides an 80% charge in approximately 30 minutes. Clarity PHEV features the Comfort Charge function, which enables the use of air-conditioning units, audio system, seat heater and additional equipment during fast charging, which enables occupant(s) to stay comfortably inside the vehicle while the Power mode is turned on during fast charging.

Features expected for a high-class sedan, namely a cabin that comfortably accommodates five occupants, a large cargo space and aerodynamic form with a low vehicle height were realized by placing the thin IPU underneath the floor and fuel tank under the cargo space.

---
---
---