A Grand Seiko Spring Drive limited edition celebrates the company's 140th anniversary
Kintaro Hattori founded his company in 1881 and led it until his death at the age of 73 in 1934.Today, Grand Seiko commemorates the 140th anniversary of the foundation of Kintaro's company with a Spring Drive watch whose dial is inspired by the calm waters of Lake Suwa that lies close to the Shinshu Watch Studio where the watch is made. The clasp carries the Grand Seiko initials in 18k gold.
The patterned dial evokes the gentle sway of the water surface of Lake Suwa, with ripples and shallow waves that create a pleasing sparkle at whichever angle the dial catches the light. Combined with the smooth sweeping movement of the seconds hand unique to Spring Drive, the dial captures the tranquil and seamless passage of time. The seconds hand and Grand Seiko letters are in a gold color that echoes the morning sunrise shimmering on the lake's surface.
The watch is powered by the new Grand Seiko Spring Drive 5 Days Caliber 9RA2, which inherits all the performance characteristics of the Spring Drive Caliber 9RA5. The new setting of the watch hands and the power reserve indicator moved to the movement's back gives the watch a slender and elegant feel upon observation of the dial and enhances the dial's exquisite craftwork signature to Grand Seiko.
Caliber 9RA2 has an accuracy rate of ±10 seconds per month and utilizes the Offset Magic Lever to reduce the movement's thickness by 0.8mm. By moving the position of the crown further back, the watch's center of gravity is lowered and a perfect fit on the wrist results. The Dual-size Barrels are of differing sizes and arranged to allow for expanded capacity while conserving space. This achieves a 120 hour power reserve. The One-piece Center Bridge guarantees the movement's strength, durability and shock resistance.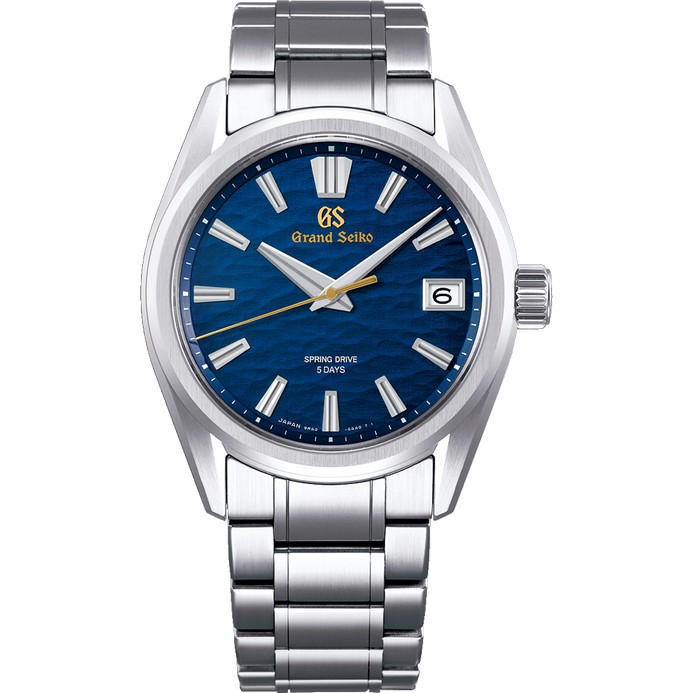 This commemorative limited edition watch perfectly expresses the quiet but strong character of Grand Seiko. Its powerful hands and grooved, prominent markers ensure perfect legibility, its Zaratsu polished, distortion-free mirror finish and delicate hairline finish alternate, giving the case a quiet and harmonious glow.The case has wide lugs and a low center of gravity that ensures that the watch sits easily and securely on the wrist. The watch will be available as a limited edition of 2,021 at the Grand Seiko Boutiques and selected retail stores worldwide in December 2021 for approximate recommended retail price in Europe: €9,100.
---
---
---