Huawei Unveils Innovative Huawei TalkBand B2 watch at Mobile World Congress 2015
Huawei today unveiled the Huawei Watch, TalkBand B2 for consumers to stay connected, on the eve of Mobile World Congress (MWC) 2015. The second generation of Huawei's TalkBand products, Huawei TalkBand B2 showcases a more business-like professional design, has smarter fitness tracking functionality with higher accuracy, and enhanced synchronization with the users mobile device.


Equipped with an advanced 6-axis sensor, TalkBand B2's smart detection can automatically identify and record motions accurately, detect the duration of deep sleep and light sleep, and provide consumers with health tips on ways to improve their sleep pattern.


Huawei TalkBand B2 is equipped with dual-microphone, noise reduction technology and quality Bluetooth connectivity. Additionally, it is also equipped with smart detection to understand whether the Bluetooth earpiece is on the wristband or not, allowing it to automatically push audio (music/call) to the smartphone or B2 bracelet. TalkBand B2 is also equipped with a pager to search and locate your smartphone, regardless of the phone model, through vibration or ring tone alerts. Huawei TalkBand B2 is not only a convenient health management device, but also the perfect combination of Bluetooth headset and sports bracelet, ideal for the on-the-run business executives who are athletically active.


Designed with fashion in mind by the Huawei Aesthetics Center team in Paris, the minimalistic design of Huawei TalkBand B2 embraces simplicity. The metal bracket of TalkBand B2 is made of high strength, light weight aviation aluminum. With an intuitive and user-friendly HD touch screen, TalkBand B2 comes in two watchband styles, the environmentally professional TPU material or the luxurious leather, which caters to different occasions. Each style comes in many different color varieties.


Huawei TalkBand B2 has superb battery performance allowing it to operate up to five days, support continuous call time up to six hours, and 12 days' standby time. Huawei TalkBand B2 supports devices with Android 4.0 operating system and iPhones with IOS7.0 or above and it will come in three colors, black, silver and gold. The recommended retail price of premium version (with leather strap) is 199 euros ($223) and that of standard version (with TPU strap) is 169 euros ($190).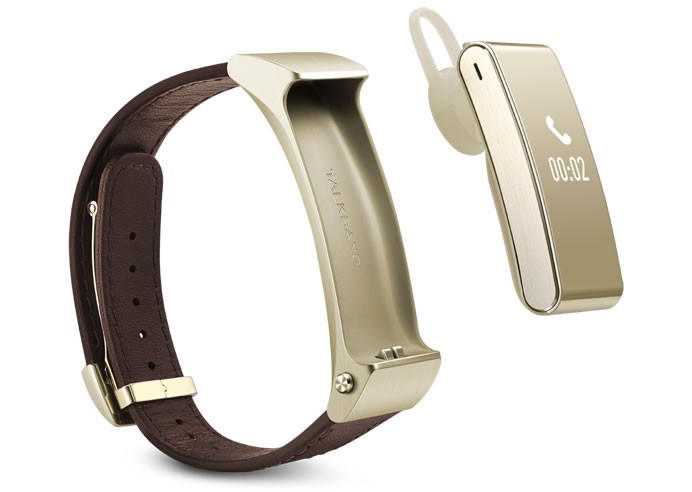 /a
---
---
---