Introducing DUOBO: LG's Groundbreaking Capsule Coffee Machine
Get ready to embark on a journey of delightful coffee exploration as LG Labs prepares to unveil its first-ever capsule coffee machine, DUOBO! This revolutionary coffee brewing marvel promises to deliver outstanding convenience and personalized flavors, redefining your coffee experience like never before. Drawing inspiration from the wonders of space exploration, DUOBO's sleek and elegant design resembles a futuristic space probe, symbolizing LG's vision of discovering new and intriguing coffee flavors—a true taste of space! To pay tribute to history, DUOBO's launch date was strategically set on July 20, commemorating the historic Apollo 11 moon landing in 1969.
DUOBO stands out with its innovative dual-capsule extraction system, allowing for two-shot layered blending. This cutting-edge feature empowers coffee enthusiasts to craft and savor their own distinctive blends, tailor-made to suit their unique palates. The DUOBO mobile app provides simple control, enabling users to precisely adjust temperature and pressure to achieve their preferred coffee perfection. Plus, this versatile coffee machine is compatible with capsules from various brands, offering an extensive range of strengths, roasts, and flavors—making it a true coffee lover's dream.
Among DUOBO's standout features is its integrated full HD IPS display, cleverly placed at the space where coffee cups sit during the extraction process.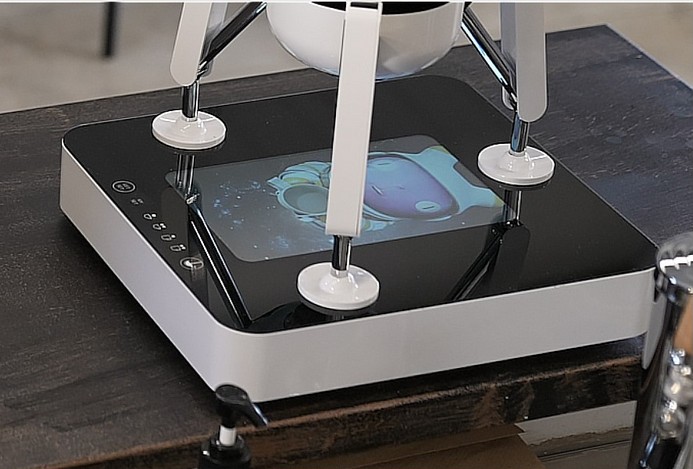 This thoughtful addition brings an extra layer of enjoyment, granting users access to a variety of engaging content, including exclusive animations and coffee-related information. The result is an immersive coffee brewing experience that is both delightful and informative, making your coffee moments truly special.
To showcase the exceptional capabilities of DUOBO, LG Labs has teamed up with six of the world's top baristas, including previous winners of prestigious US Barista Championships. At a captivating event held at The Lost Draft café in New York's fashionable Soho district, these skilled baristas demonstrated the ease of using DUOBO, creating delightful blends, and discussing the unique benefits of LG's dual-capsule system.
Exciting news for coffee enthusiasts and early adopters! DUOBO by LG Labs will soon be available for crowdfunding on Kickstarter, starting from July 20. By grabbing the limited Super Early Bird deal exclusively on Kickstarter, you can save an incredible 50 percent on this futuristic coffee machine. This is a chance to be among the first to experience the wonders of DUOBO and be a part of this groundbreaking coffee revolution.
---
---
---