Japanese Scientists Develop Light Stretchable Full-Color Display That Can Be Attached To the Skin
A collaborative research group between the University of Tokyo (lead by Dr. Takao Someya (Dean and Professor of the Graduate School of Engineering) and Dai Nippon Printing has succeeded in producing a stretchable thin full-color skin display with a drive/communication circuit and power supply that can be attached to the skin. The skin display is a communication system that can display image messages sent from an external source on a display attached to the skin. A full-color LED display with 12×12 dots and 144 pixels mounted on a thin rubber sheet. The drive circuit, communication circuit, and power supply are integrated, and the display of information transmitted from the outside can be handled by itself.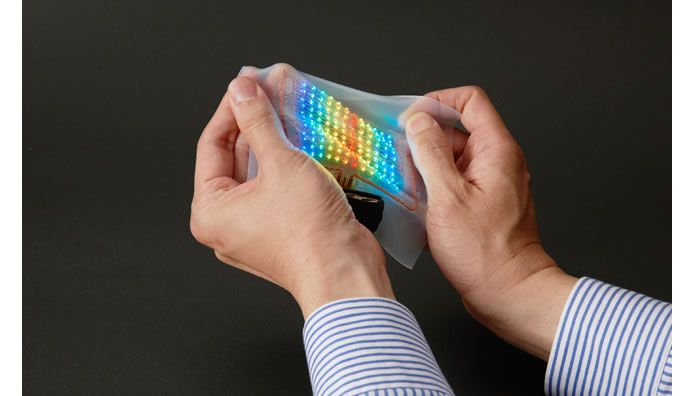 The skin display developed to demonstrate the effectiveness of this mounting technology has 12 × 12 (number of pixels: 144) 1.5 mm square full-color LEDs embedded in a thin rubber sheet at equal intervals of 2.5 mm. I will. The total thickness is about 2 mm, and the electrical and mechanical characteristics are not impaired even when repeatedly expanding and contracting up to 130%. Since it is thin, lightweight, and elastic, it does not interfere with human movement when it is directly attached to the skin. In addition to skin, it can be attached to various things including curved surfaces including human skin. The drive voltage of the display is 3.7V, the display speed is 60Hz, and the maximum power consumption is 100mW on average.
---
---
---