Redux Sound Launches ReduxBuds, First True Wireless Earbuds to Feature Artificial Intelligence
Redux Sound is set to launch its new artificial intelligence-powered true wireless headphones, ReduxBuds, to online shoppers after a successful crowdfunding run. The headphones feature smart ANC technology that filters sound from the surrounding environment through to the listener. ReduxBuds AI-powered ANC recognizes 6000+ distinct sounds, allowing users to enjoy their music while interacting with the world around them with total confidence and awareness.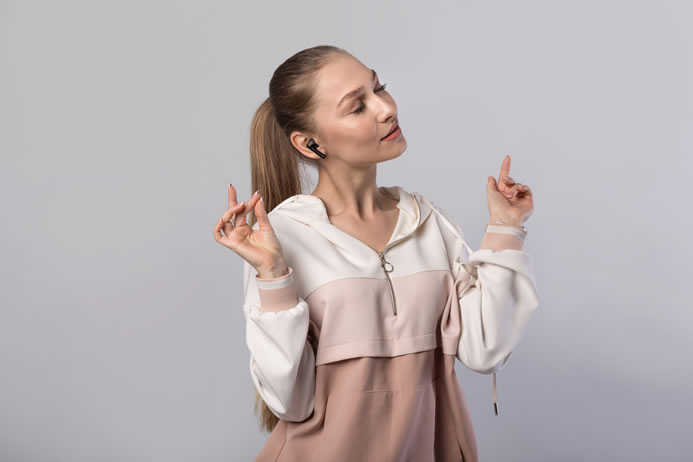 ReduxBuds' smart ANC listens to environmental noise via the microphones on each earbud. The AI software then distinguishes which noises to let pass through. These sounds include traffic horns, alarms, and voices directed at the listener. ReduxBuds are ideal for those who want to listen to their music while remaining safely aware of their surroundings in places such as outdoors, the office, and the gym. Smart ANC can be toggled on and off. ReduxBuds also include standard ANC that completely blocks out surrounding noise as well as No ANC for standard listening.
ReduxBuds are made with graphene drivers that are 40% larger than the drivers in most true wireless earbuds. At 7mm in diameter, ReduxBuds speakers are able to deliver a wider audio range, including deeper bass and louder volumes. Graphene is one of the strongest and most sensitive materials on Earth. At 200x the strength of steel and 1000x thinner than paper, graphene creates audio waves more efficiently, resulting in fewer artifacts and clearer sound.
For those who like to listen all day, ReduxBuds have one of the longest-lasting batteries. One 15-minute charge will power the earbuds for up to 10 hours of continuous playback. The carrying case/charger is able to hold an additional 90 hours of power. When not in use, the earbuds charge automatically in their case. The case charges via USB-C fast charging.
The earbuds' ergonomic design is another benefit for long-term listeners. ReduxBuds were designed by ergonomic engineers to provide a snug fit that stays comfortable even after many hours of use. ReduxBuds were tested in high-activity situations such as mountain biking and boxing to ensure they do not fall out or loosen due to moisture or shock. The earbuds ship with three sets of ear tips so users can customize their fit.
ReduxBuds' wireless connectivity is powered by Bluetooth 5.0. This is the most advanced wireless technology to date, featuring instant pairing, strong connections up to 30 feet away, and reduced lag. The earbuds pair to a preferred device automatically when removed from the charging case. When gaming or watching videos, users can activate Gaming Mode to further decrease audio/visual latency.
For outdoor listening and gym-goers, ReduxBuds feature advanced weatherproofing and waterproofing. The earbuds have a rating of IPX5 and are impervious to sustained water pressure, sweat, and splashes. Double sealed seams and rubber ear tips keep dust and debris from entering the earbuds' casing. ReduxBuds are not fit for full submersion but are wearable in heavy rain.
Apart from listening to music, listeners can use ReduxBuds to access their smartphone or device hands-free using voice commands. By tapping an earbud three times, a user can activate their digital assistant (Google, Siri, etc.). With voice commands, the listener can make calls, send messages, surf the web, attend meetings, and more. Thanks to Bluetooth 5.0, a listener can take these actions even if their device is not present.
ReduxBuds were designed for daily use indoors and outside. Ideal for carrying in a pocket or bag, the earbuds measure just 4cm long, and the charging case measures 5 cm X 6 cm. Each earbud has a touch panel that allows the listener to control its operation using intuitive taps.
ReduxBuds are now accepting pre-orders for the launch of the second product batch after the initial manufacturing run sold out. ReduxBuds are on sale now at pre-order pricing of $125.00. Expanded availability is expected in late 2020 or early 2021 at a retail price of $250. ReduxBuds ship to listeners worldwide. Visit http://www.reduxsound.com
---
---
---