Samsung Gear S3 Smartwatch combines timeless design with the latest in mobile technology
Samsung today unveiled the Gear S3, a striking and innovative smartwatch. The Gear S3 combines timeless design with the latest in mobile technology, including IP68 water resistance, mobile payments, LTE connectivity and built-in GPS, making it the ideal addition to any watch collection. Samsung Gear S3 is available in two bold designs to suit different users' lifestyles: frontier and classic. The frontier is designed to perform in any setting or environment – whether business or leisure.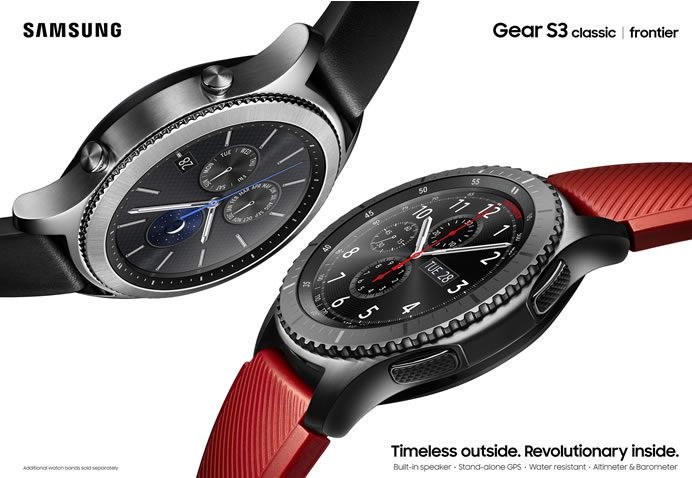 The Gear S3 is compatible with 22mm watch bands so consumers can easily personalize their watch to match any outfit or special occasion. For the first time on the Gear series, the Gear S3 features Corning Gorilla Glass SR+, which is specifically designed for wearable devices to provide a tougher, more scratch resistant and crisp display.The 16 million colors full-color Always On Display (AOD) and Super AMOLED technology further differentiates the Gear S3 from other smartwatches.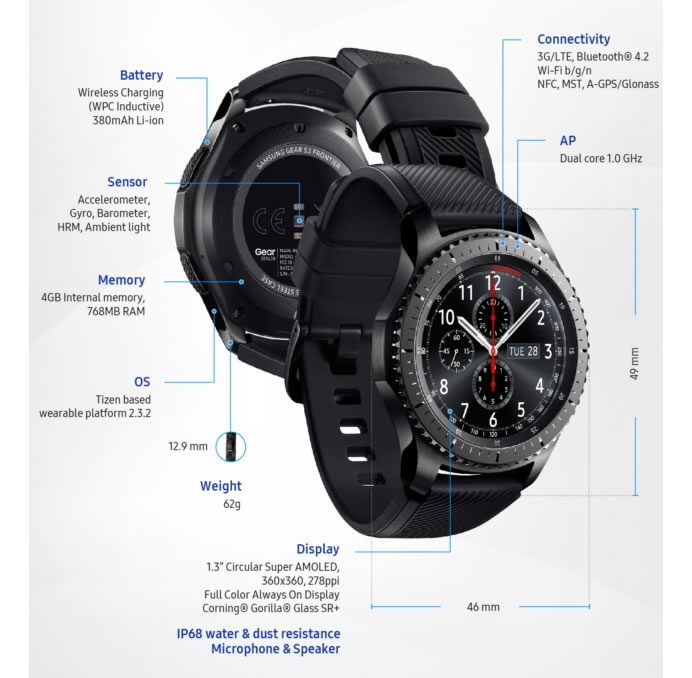 The Gear S3's signature rotating bezel has been enhanced with new features. Without touching the screen, users can accept or reject a call or snooze an alarm. In addition, by writing or drawing on the display, messages will automatically convert to texts and emojis. The Gear S3 puts convenience at the flick of the wrist, allowing users to leave their smartphone behind when they don't need it on-hand. The built-in GPS functionality enables users to accurately monitor their daily fitness activities while the Alti/barometer and Speedometer allow users to track everything from altitude and atmospheric pressure to sudden changes in weather, distance traveled and speed.

Never miss another phone call with LTE connection making its smartwatch debut on the Gear S3 frontier. With the built-in speaker, Gear S3 users can activate voice messaging and listen to their favorite tunes. With a battery that lasts up to four days on a single charge, users can enjoy their music, make calls and show off their stylish smartwatch longer.

The Gear S3 was designed with consumers' safety in mind. In case of an emergency, users can activate the SOS and location tracking capabilities to alert family, friends and emergency professionals about crisis situations, even when their phone isn't in-hand. Gear S3 users in select markets can use their smartwatch to make a purchase almost anywhere they can swipe or tap a card with Samsung Pay for Gear S3.



With a variety of customizable watch faces available for download, users can personalize the circular UI to fit their lifestyle. Select apps and watch faces will be available for download directly from the Gear S3 without the need to first download on a smartphone. With the launch of the Gear S3, Samsung will continue to roll out software updates and support to provide Gear S2 customers with access to select Gear S3 features.
---
---
---