Sony Announces CMOS Image Sensor for Automotive Cameras with 5.4 Effective Megapixels
Sony announced today that it has released the 1/1.55 type, 5.4-effective-megapixel IMX490 CMOS image sensor for automotive cameras. The new image sensor simultaneously achieves HDR and LED flicker mitigation functions at the industry's highest 5.4-effective-megapixels. This makes it possible to capture a wider angle of view while maintaining the same resolution as with existing lower resolution sensors, enabling the sensor to recognize traffic conditions and objects such as obstacles, signs, and traffic signals across a broader field.


Sony has also improved the saturation illuminance through a proprietary pixel structure and exposure method. When using the HDR imaging and LED flicker mitigation functions at the same time, this offers a wide 120dB dynamic range, about three times higher than that of the previous product. This means highlight oversaturation can be mitigated, even in situations where 100,000 lux sunlight is directly reflecting off a light-colored car in the front, and the like, thereby capturing the subject more accurately even under road conditions where there is a dramatic lighting contrast such as when entering and exiting a tunnel.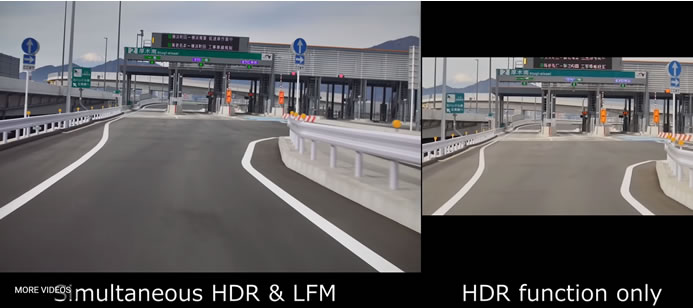 Sony 1/1.55 type, 5.4-effective-megapixel IMX490 CMOS image sensor improves the sensitivity characteristics by about 15% compared to that of the previous generation product, improving the capability to recognize pedestrians and obstacles even in low illuminance conditions of 0.1 lux, the equivalent of moonlight. Sony will begin shipping samples in March 2019.
---
---
---