Sony Introduces 360 Reality Audio Compatible Wireless Speakers – Featuring New Amazon Music HD Streaming Capabilities
Sony today introduced the SRS-RA5000 and SRS-RA3000 wireless speakers, offering premium, at-home listening experiences. Equipped with Sony's unique spatial sound technologies, the speakers create ambient room-filling sound that immerses listeners in their favorite music. Introduced in 2019, Sony's 360 Reality Audio makes it possible for artists and creators to produce music by mapping sound sources such as vocals, chorus and instruments with positional information and placing them within a spherical space. Sony SRS-RA5000 and SRS-RA3000 wireless speakers offer ambient room-filling sound, thanks to Sony's unique spatial sound technologies.
Based on 360 Reality Audio and Immersive Audio Enhancement technologies, the RA5000 and RA3000 fill the space with impressive sound – both vertically and horizontally – to create a broad and wide sweet spot. 360 Reality Audio tracks, which can be enjoyed through compatible music streaming services, incorporate three-dimensional sound location data to deliver a 360-degree soundscape. Immersive Audio Enhancement, a unique algorithm from Sony, can transform any two-channel stereo tracks to fill the room with sound and further enhance the listening experience.
The Sony RA5000 is Hi-Res Audio certified, for superior sound quality through High-Resolution Audio playback. The RA5000 features a trio of up-firing speakers that spread music vertically, while the three middle sited speakers spread sound horizontally. The speaker unit incorporates high-magnetism neodymium magnets and a mica reinforced cellular diaphragm that gives strength to the speaker while still maintaining a compact size. These are complemented by a subwoofer, which helps to flood the room with rich, deep bass.
The Sony RA3000 achieves omnidirectional sound with deep bass by using a full range speaker, an omni-diffuser that spreads sound throughout the room in every direction and a dual passive radiator to produce deep bass. The speaker's overlapping beam tweeters form a wave front that goes upward, which delivers sound vertically. Gone are the days of fiddling with the remote to create a consistent volume; the Auto Volume feature on both the RA5000 and RA3000 takes the stress out of finding the perfect volume for each track. The speaker adjusts the sound, track-by-track, to make the listening experience stress-free.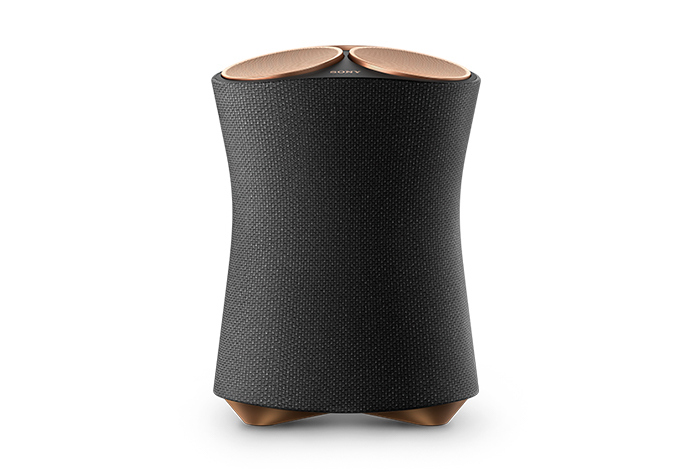 The RA5000 and RA3000 both feature Sound Calibration that offers optimal sound performance wherever they are used. Simply hold the Immersive Audio Enhancement button on the RA5000 and it will conduct a detailed sound calibration adjustment for optimum audio performance for the room it is placed in. The RA3000 provides effortless auto adjustment, which takes place in the background while you are enjoying your favorite tracks. To activate the RA3000's automatic recalibration, simply turn the speaker on wherever it is placed in the home and it will recalibrate itself to the new position.
With a compact size and small footprint, the RA3000 fits just about anywhere. Since it's humidity resistant, users can even enjoy the RA3000 in the kitchen and bathroom. Whether it's used to enjoy some relaxing music in the bath or dance around the kitchen while cooking, the RA3000 is the perfect companion. Both Sony RA5000 and RA3000 are compatible with Google Assistant6-enabled devices with Chromecast built-in and Amazon Alexa7 enabled devices. User can control the speakers from anywhere in the house with the Sony | Music Center app on a smartphone.
Sony RA5000 and RA3000 also wirelessly connect to compatible BRAVIA TVs to easily enhance the audio performance and make movie night even more exciting. Both speakers are Wi-Fi enabled, feature Bluetooth technology, have NFC9, are compatible with Spotify Connect and have Chromecast built-in to easily pair the speaker with a smartphone or tablet.
In addition to Amazon Music HD, 360 Reality Audio can also be streamed via TIDAL, nugs.net and Deezer23 on the RA5000 and RA3000 speakers. Listeners can currently access approximately 4,000 songs in 360 Reality Audio from artists like Alicia Keys, Megan Thee Stallion, Noah Cyrus, Zara Larsson, Paloma Faith and more. The SRS-RA5000 has a suggested retail price of $699.99 and is available to pre-order today at Amazon. The SRS-RA3000 has a suggested retail price of $299.99 and is available to pre-order today at Amazon.
---
---
---