Asus launches Two-Slot GeForce GTX 680 DirectCU II with 4GB GDDR5 doubles video memory
While previous Asus GeForce GTX 680 DirectCU II graphics cards presented extreme power in a three-slot design, the redesigned edition packages the product in a convenient two-slot height. This allows for easier integration into more desktop PCs, and answers a popular call from the gamer and overclocker community to provide a two-slot GeForce GTX 680 DirectCU II card. The new edition ups video memory to a massive 4GB GDDR5, which is twice the previous allotment. The latest DirectCU II thermal design goes beyond merely packing the same DirectCU cooling excellence in a leaner shroud.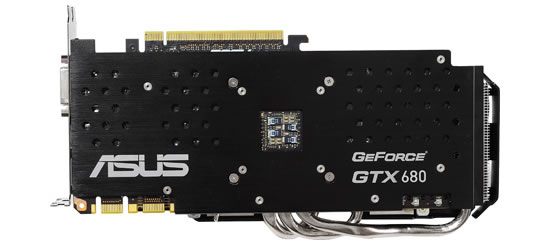 It features a new all-copper heatpipe layout, with heat channels precision-shaped in a twin S and a single U configuration. The optimized SSU design makes better use of highly-conductive copper heatpipes, which are also nickel-plated to reduce oxidization. The pipes contact the GPU directly and improve thermal efficiency by being centered on the core. The redesigned GeForce GTX 680 DirectCU II retains trademark DirectCU performance figures, including 20% lower temperatures and up to three times quieter operation compared to reference cards.


With 4GB, the cards are ready for WQHD (2560 x 1440), which is set to become a major resolution in PC gaming in the near future. At the same time, Asus engineers succeeded in reducing the size of the DirectCU II cooler, so that the new GTX 680 DirectCU II requires just two expansion slots, making it an easy fit in most modern PC cases.
---
---
---