Logitech Unveils World's Fastest Gaming Mouse- Logitech G402 Hyperion Fury
Logitech today introduced the fastest gaming mouse ever made, the Logitech G402 Hyperion Fury Ultra-Fast FPS Gaming Mouse. The Hyperion Fury features Logitech's exclusive Fusion Engine sensor technology that can reliably track over 500 inches per second (IPS) and Logitech's exclusive Delta Zero sensor technology for unrivaled accuracy. The Fusion Engine in Hyperion Fury, created by Logitech engineers, solves a problem many FPS players have: their mouse can't track as fast as they can move. By combining state-of-the-art optical sensor technology with an accelerometer and gyroscope, the Fusion Engine provides unmatched tracking speed.


A 32-bit on-board ARM processor powers the Fusion Engine in Logitech G402 Hyperion Fury FPS Gaming Mouse, allowing reliable and accurate tracking speeds exceeding 500 inches per second. Lightweight materials and low-friction feet allow for high-speed moves, while offering the most comfortable feeling. Logitech G402 Hyperion Fury FPS Gaming Mouse features eight programmable buttons that can be configured for anything – whether complex macros or single keystrokes – using Logitech Gaming Software. Your personal configuration can be saved to onboard memory for maximum speed and accessibility.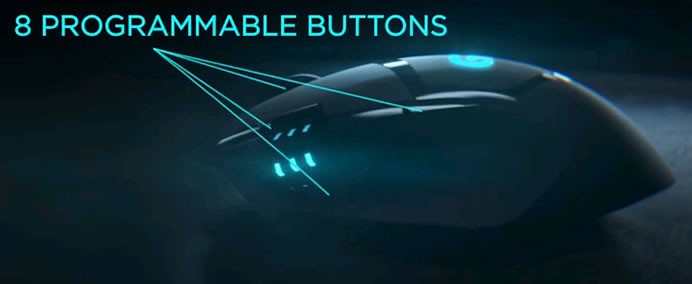 The Logitech exclusive Delta Zero technology ensures pinpoint accuracy for Hyperion Fury. Four DPI settings can be accessed in an instant, so user can shift down for pixel-perfect sniping or shift up for high-speed maneuvers, all with maximum precision. Using Logitech Gaming Software, user can add a fifth DPI setting and customize the experience to his liking. With DPI shifting, Hyperion Fury can go from 4000 DPI to 240 DPI in the blink of an eye. The Logitech G402 Hyperion Fury FPS Gaming Mouse is expected to be available in the U.S. and Europe beginning in August 2014, for a suggested retail price of $59.99.

---
---
---