Razer Unveils the Nommo V2 Line: Next-Level PC Gaming Speakers
Razer, the leading brand in gaming peripherals, has announced the highly anticipated launch of their newest PC gaming speakers: The Nommo V2 line. Designed with a focus on performance, immersion, and connectivity, these speakers offer gamers an unparalleled audio experience. The flagship model, the Razer Nommo V2 Pro, stands out with its remarkable features, including THX Spatial Audio and captivating Razer Chroma RGB lighting. Accompanying the Pro variant are the wired subwoofer-equipped Nommo V2 and the sleek and minimalistic Nommo V2 X, providing gamers with versatile options to suit their preferences.
The Razer Nommo V2 Pro takes gaming audio to new heights. With 3″ full-range drivers featuring aluminum phase plugs, the speakers produce natural, crystal-clear acoustics, ensuring every sound is faithfully reproduced. Setting a new standard, the Nommo V2 Pro is the world's first PC gaming speaker system to offer a wireless down-firing subwoofer. This innovation provides deep, room-thumping bass without any cable clutter, delivering a truly immersive gaming experience. To further enhance the atmosphere, Razer Chroma RGB lighting creates captivating rear-projection effects, enveloping gamers in stunning visuals.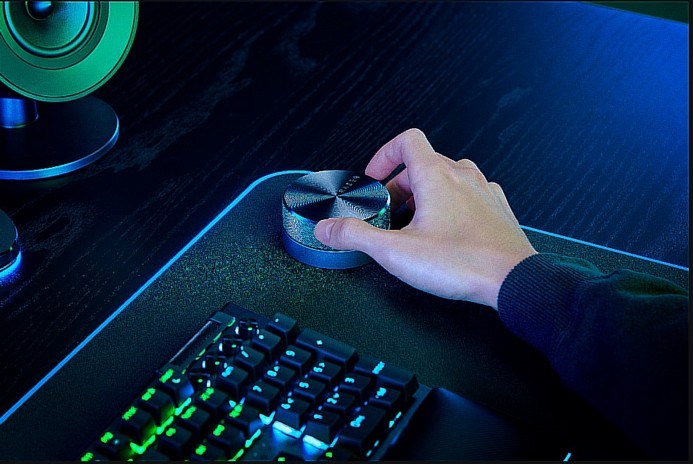 To deliver the best audio quality, the Nommo V2 Pro incorporates THX Spatial Audio technology, offering gamers a wide and true-to-life soundstage. This revolutionary feature creates a highly immersive audio environment, enhancing positional audio cues and elevating gaming experiences. Additionally, Razer introduces THX Game Profiles for the first time in their speaker lineup. These specially tuned EQs optimize surround sound for popular game titles like Cyberpunk 2077 and Monster Hunter Rise: Sunbreak, with ongoing support for more games in the future.
The Razer Wireless Control Pod provides convenient control and seamless connectivity. Featuring a rotatable, clickable dial and source button, gamers can easily navigate and control settings such as volume, play/pause, and EQ adjustments. The Wireless Control Pod can be connected via Bluetooth, offering up to 8 months of battery life for long-lasting performance. Initially bundled with the Nommo V2 Pro, the Wireless Control Pod will also be available as a standalone accessory for the Nommo V2 and Nommo V2 X starting from August. Razer Nommo V2 Pro will be available in June for approximately $449.99 USD / €449.99 MSRP.
Razer further expands the Nommo V2 line with the introduction of the Nommo V2 and Nommo V2 X. Both models feature two 3″ full-range drivers and THX Spatial Audio, delivering high fidelity and room-filling soundstage. The Nommo V2 comes with a wired subwoofer, while the Nommo V2 X is a sleek 2.0 speaker system with rear-facing bass ports, ensuring accurate sound reproduction and optimal clarity for all entertainment purposes. The Razer Nommo V2 line is designed to be compatible with various platforms, including PC, PlayStation, Nintendo Switch, and mobile devices. With the launch of the Nommo V2 line, Razer reaffirms its commitment to delivering exceptional audio products for gamers.
---
---
---