Samsung launches world's first curved gaming monitor featuring quantum dot technology- CFG70
Samsung today announced the global launch of its new curved gaming monitor designed specifically for professional gamers – CFG70. The Samsung quantum dot curved gaming monitor CFG70 includes enhanced picture quality and player-friendly features for a truly immersive gaming experience. As the industry's first curved gaming monitor to feature quantum dot technology, the CFG70 monitor (24- and 27-inch models) expresses brilliant and accurate colors across a 125 percent sRGB spectrum. This added luminance produces a 3,000:1 contrast ratio and amplifies previously-hidden gaming details in both light and dark settings. By combining Samsung's advanced motion blur reduction technology with its VA panel, the CFG70 is the first curved monitor to produce a 1 ms moving picture response time (MPRT).


Samsung quantum dot curved gaming monitor CFG70 features industry-best 1,800R curvature and a 178-degree ultra-wide viewing angle and is formatted to match the natural curve of the human eye. Sound-interactive LED lighting further creates a lifelike presentation and keeps users focused during the most paramount moments. The Samsung CFG70 also leverages integrated AMD FreeSync Technology over HDMI functionality to synchronize the screen's 144 Hz refresh rate with users' AMD graphics cards. This connectivity minimizes image tearing, input latency and stutter that can disrupt gameplay and escalate visual fatigue.

Samsung has equipped the CFG70 with a range of user-friendly gaming UX that drives more convenient and easily-accessible game management. The CFG70 includes a dedicated gaming interface with an intuitive settings dashboard to better allow gamers to modify and personalize their gameplay settings. Each CFG70 monitor also offers a series of hotkeys on the front and back of the display for users to easily adjust gameplay settings.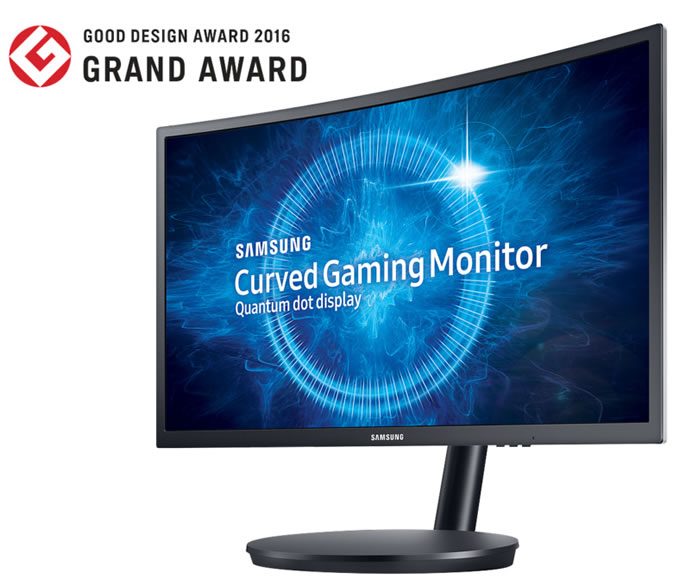 The Japan Institute of Design Promotion (JDP) recently named the Samsung CFG70 as a recipient of its annual Good Design Awards. The monitor employs an environmentally-safe, cadmium-free design. Samsung quantum dot curved gaming monitor CFG70 was first introduced at the Gamescom 2016 and IFA 2016 conferences.

---
---
---