Sony PSPgo- a new evolution of PSP handheld entertainment system

Sony today unveiled the PSP (PlayStation Portable) go (PSP-N1000), a new evolution of PSP handheld entertainment system, specifically designed to suit the digital lifestyle of consumers who enjoy downloadable content on the go. Sony PSPgo is ideal for todays on-the move consumers who prefer not to carry around disc-based content and are looking for on-demand entertainment. With the steady expansion of broadband network infrastructure, the number of users who download and enjoy digital entertainment content has been increasing remarkably. To address this growing trend, Sony PSPgo replaces the UMD drive with 16GB of flash memory to store a variety of digital entertainment content, offering users unlimited possibilities of portable digital entertainment delivered through PlayStation Network. Sony PSPgo, smaller and lighter than ever with a sophisticated design featuring an easy sliding display panel, is truly pocket-sized and can be taken everywhere.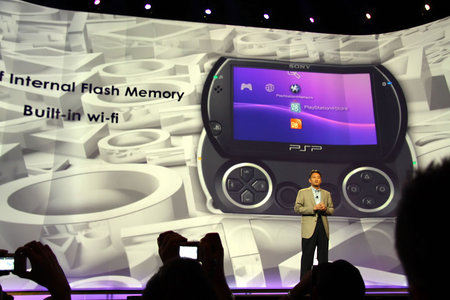 Sony PSPgo will become available in stores on October 1,2009, in North America, Europe/ PAL territories and Asian countries and regions at a recommended retail price (RRP) of US$249 and €249, and on November 1, 2009, in Japan at a RRP of 26,800 yen (including tax). Sony PSPgo will be available in Piano Black and Pearl White two of the most popular colors since the launch of the PSP system in 2004. Sony PSPgo measures 128 x 16.5 x 69 mm and weigh approximately 158g.

---
---
---