Unstoppable Gaming Rig M8 by ASRock and BMW Group DesignworksUSA

If you're on the hunt for a computer that is not merely capable of running all of the latest hardcore PC games on maximum performance, but also decorated in such sophisticated appearance that it constitutes your right to be a gamer no matter how old you get, then ASRock and BMW Group DesignworksUSA has the perfect answer for you! Gamers beware, the long anticipated Intel 8 Series gaming rig M8 is hitting the markets!


M8 is not your typical gaming rig, it has everything packed within a standard mini-ITX sized case with advanced flexibility for future upgrades. Gamers may customize their own gaming machine, including the PCIe x16 graphics card, mini-ITX motherboard, CPU, memory, 1 set of 3.5″ hard drive or 4 sets of 2.5″ solid state drives and even other components.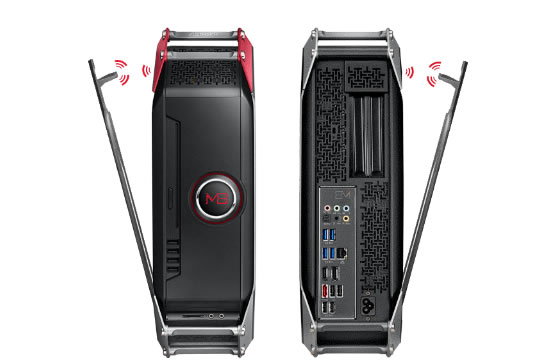 Both sides of the case is partially transparent, so that the motherboard and components inside are ambiguously visible, adding a sense of mystery. Inside the box lies a Z87 mini-ITX motherboard for advanced portability and space efficiency. Employing grade N48 magnets to hold the case together, this innovative design makes it easier for users to quickly disassemble or assemble the chassis.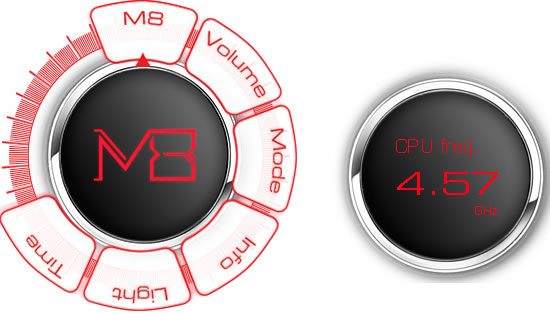 ASRock M8 with A-Command with G-Sensor adds more convenience with its OLED display for users to tune or check the system's stats without connecting an additional monitor.An uniquely designed set of keys to ensure all of the components are sitting safely inside the chassis.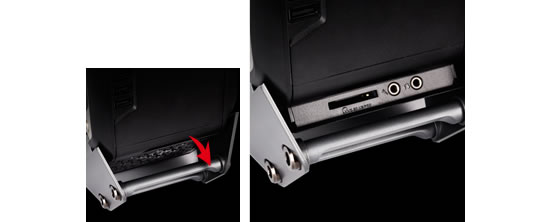 2T2R 802.11ac WiFi module and Bluetooth v4.0 provides up to 867Mbps blistering fast wireless internet connections. And the Creative SoundCore 3D 7.1 CH HD Audio quad core processor supports SBX Pro Studio, Crystal Voice, Scout Mode, EAX 1.0-5.0, etc, for unbelievably realistic audio effects.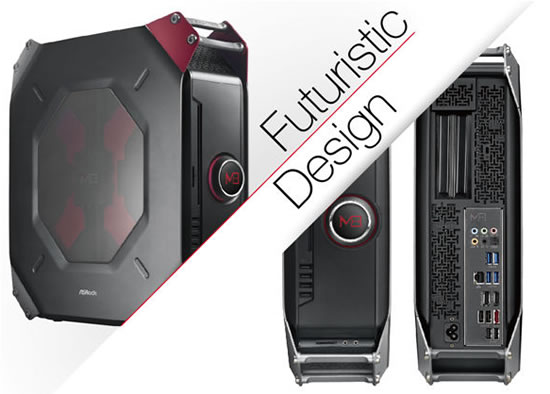 Robustly built with 2.5mm of aluminum alloy, the chassis exudes the elegance of simplicity, meanwhile the red and black color scheme screams out hardcore gaming. A cunningly designed hidden front panel which includes a 4 in 1 card reader (SD3.0 / MMC / MS / MS PRO) plus microphone and headphone jacks. For the system to remain cool while gaming there's a total of 4 quiet built in chassis fans that suck in cold air and pump out the heat simultaneousl
---
---
---