Japanese Inventor Yasuyuki Fujimura promotes low-power lifestyle with electricity-free appliances

Yasuyuki Fujimura, 67, graduated from Osaka University with a doctorate in engineering and worked as an engineer at construction machine maker Komatsu before setting up his studio at his home in 2007. He has invented over 10 types of appliances, which he even offers to other countries such as Mongolia. When Fujimura gives lectures, he brings up his self-made unit "GP." One GP is the average yearly power provided by a single nuclear reactor, around 5 billion kilowatt hours. According to Fujimura, all the televisions in Japan come out to 10 GPs, or 10 nuclear reactors' worth of power usage a year. All the heated water servers take 3 GPs in order to maintain the temperature of the water inside, making them the same as air coolers.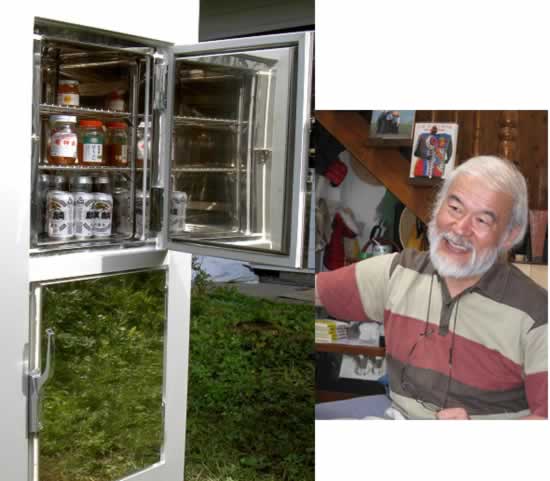 A refrigerator made of highly conductive metal, surrounded with water and insulated can keep a temperature of seven to eight degrees Celsius even outside in the daytime during summer. A dehumidifier he created with a nearly endless lifetime that sells for 23,000 yen ($288) is a hit product that sells around 200 units a year. At his studio, Fujimura uses natural gas and pressure cooking pots to make rice rather than electric rice cookers, which use the equivalent of 2 GPs a year.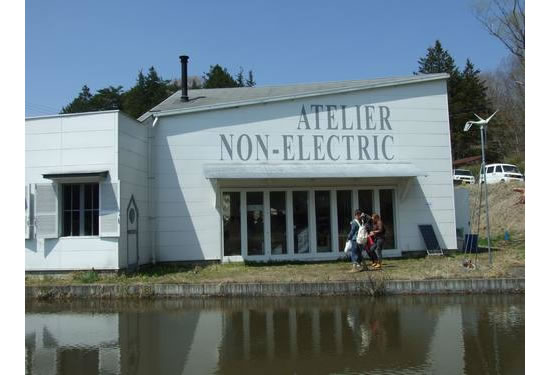 For lights, which are 10 GPs, and computers, 3 GPs, he is careful to turn them off when not needed. He gets lighting through windows in the roof and cleans with a broom. He also uses solar and hydroelectric power generation. Although Fujimura has over 10 buildings on his wide lot, he only pays around 40,000 yen ($501) a year in electricity fees to Tokyo Electric Power Company.
---
---
---