Toshiba to make Full-scale Entry into Residential Solar Photovoltaic Systems Business in Japan on April 1st 2010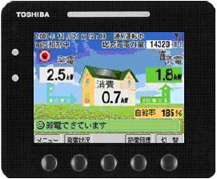 Toshiba today announced that it will make its full-scale entry into the residential solar photovoltaic systems business in Japan on April 1st 2010, with the goal of winning a 10% share of the Japanese market by fiscal year 2012.Toshiba's residential solar photovoltaic systems comprise photovoltaic modules, power conditioners and color LCD that displays the overall system status. The photovoltaic modules will be supplied by SunPower and will integrate solar cells that achieve a conversion efficiency of cells of 21.5%, one of the highest commercially available conversion efficiencies. Toshiba's photovoltaic systems will combine these modules with a power conditioner and achieve a total power generating efficiency rate of 15.9%.

This level of performance will allow configuration of smaller, lighter systems suited to Japanese residences. Toshiba will promote the business by establishing a training center to support the contractors who will install the systems, and expects to conduct training programs for approximately 3,000 employees of contractors by the end of fiscal year 2010.
---
---
---