Samsung Unveils World's Largest Onyx LED Cinema Screen at Beijing Capital Cinema

Samsung has installed a 14-meter-wide cinema LED screen Onyx at the Shoudu Cinema in Beijing. This is world's largest Onyx Screen. Samsung introduced a cinema LED screen that is 10 times brighter than a projector in 2017 and branded it as Onyx to strengthen its B2B display segment. The firm said the Onyx screen installed in Beijing is the firm's largest-ever cinema LED display. According to Samsung the Onyx screen offers moviegoers a better cinematic experience as it uses a pixel-packed LED display for better picture quality instead of using a traditional beam projector.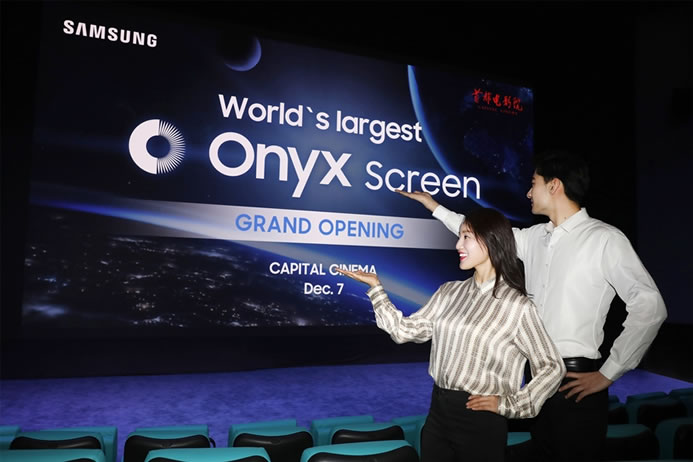 Shoudu Cinema in Beijing is known as Capital Cinema in English, has been one of the most famous in China since its opening in 1937. The theater had an opening ceremony for the Onyx screen on Dec. 7 and premiered a 3D version of DC Comics' superhero film Aquaman. The display combines 4K resolution, HDR picture quality and peak brightness level of 88fL — nearly six times greater than standard projector technologies. The Onyx screen also supports 3D technology .The Onyx screen boasts quality sound system as it uses JBL, a subsidiary of audio company Harman, which was acquired by Samsung.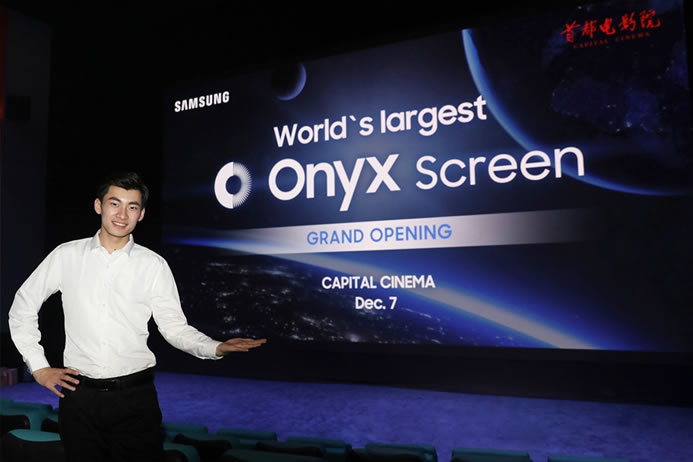 With the installation of a 14-meter screen in Beijing, Samsung expects more movie theaters to start using its Onyx screen. Samsung plans to replace traditional beam projectors with its cinema LED display as it plans to install more than 20,000 Onyx screens all over the world by 2020 (about 10 percent of the global cinema screen market). Samsung will install its Onyx screen at more than 30 theaters across the world within 2018.

Ever since its first installation at the Lotte Cinema World Tower in Seoul in July 2017, the cinema LED screens have been installed in many countries including the U.S., Mexico, Switzerland, India, Thailand, Hong Kong and Malaysia. In Korea, Samsung has also installed another Onyx screen at Lotte Cinema's Konkuk University Entrance branch on Dec. 1.
---
---
---