Bang & Olufsen announces high-end Surround Sound system for BMW 6 Series Convertible

Bang & Olufsen announced today that the new Bang & Olufsen high-end Surround Sound system for the BMW 6 Series Convertible will be available at dealer showrooms in late autumn 2011. With 12 active loudspeakers driven by 1,000 watts of power, the Bang & Olufsen high-end Surround Sound system for the BMW 6 Series Convertible has all the power it needs to deliver rich, convincing sound. Each of the five tweeters is paired with a mid-range loudspeaker to deliver a homogeneous loudspeaker set-up, while the two potent subwoofers located under the front seats are directly mounted to the body of the car. This BMW-patented design eliminates vibrations from the subwoofers to produce an even cleaner sound performance. The patented Bang & Olufsen Acoustic Lens Technology also plays its part, distributing sound horizontally with 180º of dispersion to give the best possible acoustic experience from anywhere in front of the speaker.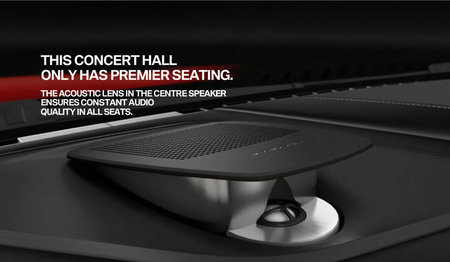 The acoustic lens cover reveals an additional mid-range loudspeaker that delivers perfectly balanced sound throughout the cabin.For the BMW 6 Series Convertible, an additional sensor automatically instructs the Digital Signal Processor (DSP) of the sound system to adapt the sound performance to suit the altered ambient cabin conditions, whenever the soft top is raised or lowered. The combination of light and sound is most impressively demonstrated when the system is activated. A loudspeaker cover in the center of the dashboard silently lifts to reveal the large acoustic lens while the embedded LED lights simultaneously turn on.
---
---
---