BeoLab 14 surround speaker system by Bang & Olufsen proves that you really can have the best of both worlds

Bang & Olufsen today announced the launch of an all-new surround sound speaker system that combines compact aesthetics and outstanding acoustic innovation to deliver the thrill of high-end surround performance without filling up the home with boxy black speakers. Small in size but big in sound, BeoLab 14 builds on Bang & Olufsen acoustic engineers' on-going achievements in packing stunning performance into surprisingly small volumes. The satellite speakers are diminutive circles of anodized aluminum with exchangeable fabric covers in a selection of colours, and integrate easily into even the most stringent interior design schemes.



The sculptural subwoofer contains separate amplifiers for all speakers in the system, and delivers bone-bouncing bass from a beguilingly slender footprint. And with a full array of placement options that includes wall and ceiling mounts as well as floor and shelf stands, BeoLab 14 is ready to fit in visually as it stands out acoustically. BeoLab 14 connects seamlessly to all Bang & Olufsen televisions, but is also just one plug away from lifting any other TV or AV receiver into a new level of sound performance.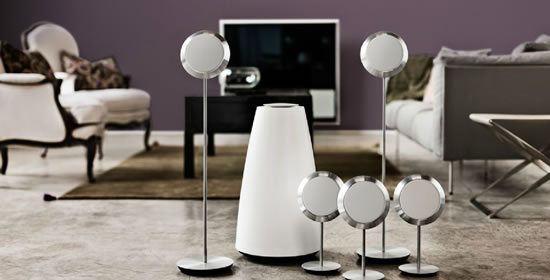 The BeoLab 14 surround speaker system proves that you really can have the best of both worlds. With its refined design, endlessly flexible placement options and acoustic pedigree, it's never been easier to enjoy home cinema in full aural splendour – without compromising your interior décor. The new BeoLab 14 surround sound speaker system is available at Bang & Olufsen stores worldwide for approximately €2995 ($3852).
---
---
---