LG to showcase world's largest ULTRA HD CURVED OLED at CES 2014

Visitors to the LG's booth at CES 2014 will have the opportunity to see the world's largest ULTRA HD CURVED OLED (model 77EC9800) TV along with LG's various 55- and 65-inch OLED TV models. The 55-, 65- and 77-inch ULTRA HD CURVED OLED TVs combine LG's proprietary WRGB OLED technology and 4K Ultra HD screen resolution (3840 x 2160 pixels) for a whole new level of picture quality and viewer immersion. Filling the viewer's field of vision with gorgeous, high-contrast images, the 77EC9800's sensually curved screen is supported by a beautiful leaf-shaped stand.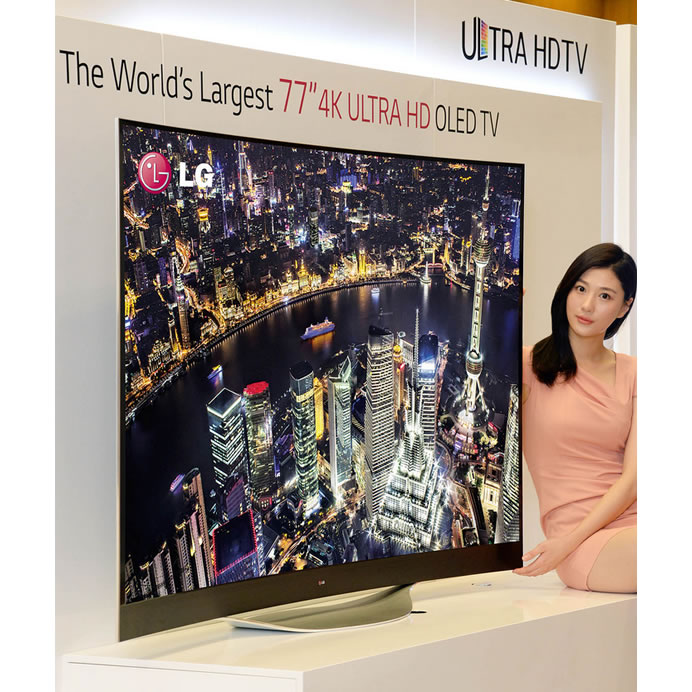 The color temperature of each pixel on the enormous 77-inch display is automatically controlled by the LG Color Refiner, resulting in superior consistency and balance. The TV's infinite contrast ratio is adeptly managed by the company's High Dynamic Range (HDR) algorithm. For more high resolution viewing options, the 77EC9800 has been equipped with LG's own Tru-ULTRA HD Engine Pro, which can upscale SD, HD or Full HD content into breathtaking near-4K picture quality. LG's ULTRA HD CURVED OLED TVs are future-proof, able to decode broadcast signals in both H.264 and HEVC H.265 formats, at 30p or 60p.


Hidden behind the elegant frame of the GALLERY OLED TV is the Canvas Speaker, a powerful 2.2 channel, 100W forward-facing setup that guarantees a superb auditory experience unavailable on any other OLED TV.
---
---
---