LG unveils new CINEMA 3D Smart TV lineup at CES 2013 with enhanced Magic Remote

LG will unveil its new CINEMA 3D Smart TV lineup at the CES 2013. The 2013 lineup offers easier content access and sharing along with an updated Magic Remote for a simplified, intuitive user experience (UX). A variety of models and sizes will be on display at CES, including LG's awe-inspiring 84-inch Ultra HD and 55-inch OLED TVs. LG CINEMA 3D Smart TVs deliver a smooth user experience and superior picture quality thanks to an upgraded central processing unit (CPU) and graphic processing unit (GPU). CPU speeds are now 120 percent faster in several premium CINEMA 3D Smart TV models. Even more impressively, GPU speeds are now 300 percent faster, which translates to clearer images that enhance gaming, viewing and multitasking.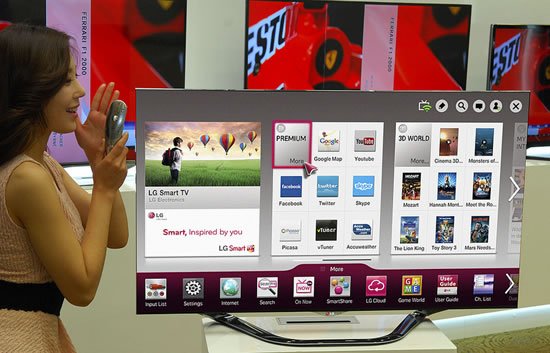 The new Smart Home onscreen interface featuring My Interest Cards – a special folders for apps and other content – provides easy, quick access to what's trending on news sites as well as up-to-the-minute weather information. My Interest Cards can be customized according to the needs and preferences of the user. The Magic Remote has been redesigned to fine-tune content and menu navigation, making interaction as simple and intuitive as possible. At CES, LG will demonstrate Voice Mate, an enhanced version of the company's voice control technology capable of recognizing the natural flow of language.


The enhanced SmartShare feature offers users the ability to mirror or transfer content from smart devices to LG Smart TVs via a multitude of connectivity options, including WiDi and Miracast. The 2013 lineup will enhance inter-device sharing further by implementing Tag On. This feature immediately connects two devices for speedy media sharing. To use Tag On, the user simply holds a smartphone or other NFC-enabled device against the NFC sticker on a CINEMA 3D Smart TV. The 2013 lineup also supports LG Cloud, which allows the user to remotely stream high-quality content from practically any location.


The new 2013 models embody LG's minimalist CINEMA SCREEN Design. The TV's bezels have been significantly reduced to provide a greater sense of immersion. The Magic Stand further enhances the effect, enabling the screen to appear as if floating. Both elegant and functional, the stand complements the screen without creating any visual distraction. This sleek formation effortlessly blends into any modern interior design scheme. The stand also features a convenient swivel and roller function, allowing the TV to be repositioned with ease.


LG's CINEMA 3D Smart TVs employ Film Patterned Retarder (FPR) technology for superior 3D viewing comfort. This technology uses lightweight glasses to create a comfortable 3D viewing experience without the distracting flicker or crosstalk of active shutter-style glasses.
---
---
---