Logitech launches Wireless Boombox for iPad, iPhone and iPod touch
Logitech today unveiled a new accessory that enhances your tablet or smartphone entertainment experience: the Logitech Wireless Boombox. Use your smartphone or tablet as a touch screen player and remote control to wirelessly stream stereo audio. Built for iPad, iPhone and iPod touch, the Logitech Wireless Boombox lets you place your speaker wherever you want – up to 33 feet away from your device. Listen for up to six hours straight on the rechargeable battery. Eight custom-designed drivers separate sound frequencies, so you hear crisp, clear high notes, a rich, full mid range and deep powerful bass.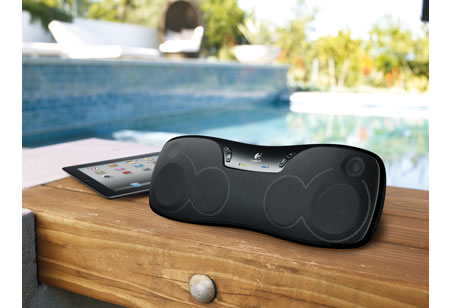 You get two 3" laser-tuned neodymium drivers for a rich mid range, two ½" neodymium tweeters for crisp high notes, and four 2" passive radiators for deep bass. The Logitech Wireless Boombox is expected to be available in the U.S. and Europe beginning in September, for a suggested retail price of $179.99.
---
---
---