Pure Chronos iDock DAB/FM Clock Radio

The Pure Chronos iDock from Pure the world leaders in digital radio is a combined DAB digital clock radio and iPod docking system enabling users to wake up to DAB digital radio, FM, a simple tone alarm or a favorite iPod track. Based on the best selling and award-winning Chronos CD, Chronos iDock combines all the choice, features and ease of DAB digital radio with the convenience of iPod docking. Chronos iDock charges the iPod when docked and is compatible with all iPods from generation. The line in enables playback of an iPod shuffle, MiniDisc player or alternative MP3 player, and a remote control is included. Pure Chronos iDock delivers quality stereo-sound as well as a huge choice of DAB digital radio stations. DAB also enables easy tuning, as stations are stored alphabetically and can be scrolled through and selected at a touch of a button.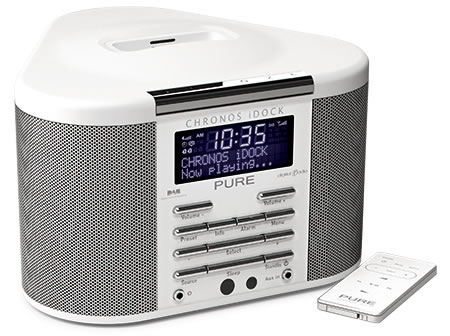 Other features unique to DAB include textSCANwhich allows users to pause and control the scrolling station information; ideal for noting down song titles or sports results. The Pure Chronos iDock will be available from the end of October 2007 for approximately $202. Chronos iDock comes in both black and white.
---
---
---