Samsung unveils worlds first curved UHD TV
Samsung launched its ultra high definition (UHD) curved TVs in South Korea yesterday. At the launch head of Samsung television business Kim Hyun-seok said that curved UHD TVs will appeal to consumers thanks to their rich picture quality and vowed to reshape the global TV industry. Samsung released several UHD TV models with different in sizes including 55-inch, 65-inch, 78-inch and 105-inch. UHD TVs provide improved picture quality when compared to existing liquid crystal display (LCD) TVs because they have a resolution of 3840 by 2160, four times higher than the 1920 by 1080 in previous full HD models, which are the industry's current mainstream. The launch of UHD TVs will help Samsung to maintain its leading position for the ninth straight year.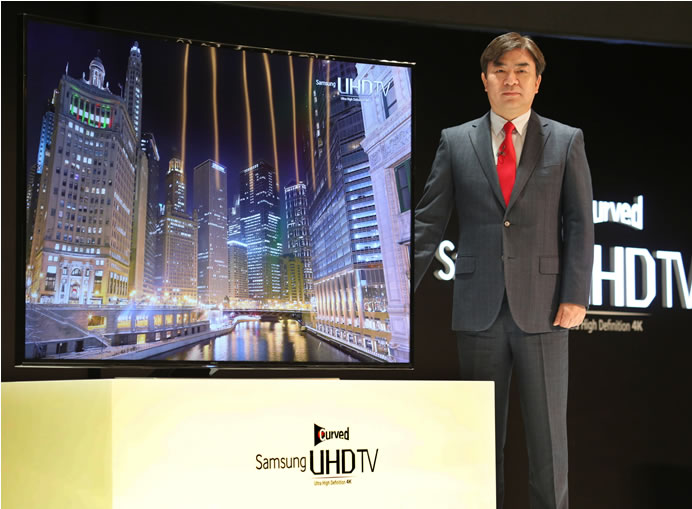 The 55-inch, 65-inch and 50-inch will be Samsungs main models, followed by the 65-inch and 78-inch for households in North America and the 65-inch and 50-inch for homes in other regions. Samsung plans to begin selling the UHD TVs sometime in the middle of next month. The 105-inch curved UHD TV model will be available from the latter half of this year as Samsung is finalizing specifications and surface design. Samsung was the top UHD TV seller last year with a global share of 30 percent by revenue. Samsung plans to unveil UHD Video Pack in March by forming an alliance with Fox and Paramount. This will allow consumers to download additional UHD TV content inside TVs.
---
---
---