SanDisk Memory Stick Micro for Sony Ericsson Mobile Phones

The ultra-thin, removable storage card Memory Stick Micro (M2) product line from SanDisk is for use with Sony Ericsson's latest generation of slim line, multimedia mobile phones like the Cyber-shot and the Walkman series phones. SanDisk M2 memory cards are ideal for users requiring expandable storage for more music, videos and quality photos. The M2 2GB holds up to 500 MP3 songs, 640 minutes of MPEG4 video or up to 4800 photos. The SanDisk M2 card line is designed for use with M2 supported handsets and also includes an adapter for use with Memory Sick PRO Duo devices such as cameras and game modules. The SanDisk M2 will plug into the Sony Ericsson K610, K800, K790, M600/608, V630, W300, W710, W712, Z530, Z550, Z710, and Z712 mobile phones.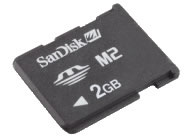 When coupled with its PRO Duo adapter, the M2 is also compatible with the D750, K750, P910, P990, V800, W700, W800/810, W850, W900, and Z800.SanDisk M2 measures 0.59 x 0.49 x 0.05 and is available for Suggested U.S. retail pricing: 2GB – $119.99, 1GB – $54.99, 512MB – $44.99.
---
---
---