Apple consulted designs of Samsung Phones before unveiling iPhone in 2007
Before it unveiled the iPhone in January 2007, Apple consulted mobile phone designs of Samsung and LG, an internal Apple document made public by a U.S. court shows. According to the internal Apple document titled 3GSM Congress Trade Show Report disclosed Tuesday, Apple meticulously analyzed the designs and functions of mobile phones made by major firms such as Samsung, LG, Nokia, Motorola and Sony Ericsson, which were submitted to the mobile world congress trade show in Spain in early 2006. The phones included Samsung's F700, LG's KE850 Prada, Motorola's Moto Q, and Nokia's N77. Apple rolled out the first iPhone the following year.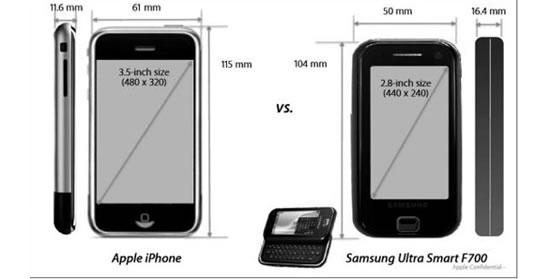 While touching only on the functions of most other products, the memo contains frontal and side-view images of the F700 and the Prada phone with details of their thickness, width, and screen sizes. The two models do not have a keypad on the front face, and their entire design including screen size of about 3 inches is similar to the iPhone's. Using the Apple memo as evidence, Samsung explained that they didn't copy the iPhone but made the Galaxy series based on the design of earlier models such as the F700. But the court didn't accepted Samsung's argument. The jury in the case still found that Samsung copied Apple's iPhone design.
---
---
---