Apple iPhone 4- Nokia-Samsung-Sony—BEAT ME IF YOU CAN

Apple today presented the new iPhone 4 featuring FaceTime, which makes the dream of video calling a reality, and Apple's stunning new Retina display, the highest resolution display ever built into a phone, resulting in super crisp text, images and video. In addition, iPhone 4 features a 5 megapixel camera with LED flash, HD video recording, Apple's A4 processor, a 3-axis gyro and up to 40 percent longer talk time—in a beautiful all-new design of glass and stainless steel that is the thinnest smartphone in the world. iPhone 4 comes with iOS 4, the newest version of the world's most advanced mobile operating system, which includes over 100 new features and 1500 new APIs for developers. iOS 4 features Multitasking, Folders, enhanced Mail, deeper Enterprise support and Apple's new iAd mobile advertising platform.


iPhone 4 is the thinnest smartphone ever—9.3 millimeters—with an all-new design and build quality like no other mobile device. The front and back are made of aluminosilcate glass, chemically strengthened to be 30 times harder than plastic, more scratch resistant and more durable than ever. The front and back glass have an oil-resistant coating that helps keep it clean, and encircling iPhone 4 is a highly finished stainless steel band made of a custom alloy that is forged to be five times stronger than standard steel.

Apple's stunning 3.5 inch Retina display has 960 x 640 pixels—four times as many pixels as the iPhone 3GS and 78 percent of the pixels on an iPad. The resulting 326 pixels per inch is so dense that the human eye is unable to distinguish individual pixels when the phone is held at a normal distance, making text, images and video look sharper, smoother and more realistic than ever before on an electronic display.


iPhone 4 is the best mobile device ever for games and entertainment, with access to tens of thousands of games and entertainment apps on the revolutionary App Store. Every iPhone 4 has a built-in 3-axis gyro that when combined with the accelerometer provides 6-axis motion sensing such as up and down, side to side, forward and backward and pitch and roll, making it perfect for gaming. Developers can access the gyro using the new CoreMotion API to make games and other apps that go well beyond what other mobile devices offer.


iPhone 4 features a new 5 megapixel autofocus camera with a 5x digital zoom, a backside illuminated sensor and built-in LED flash that allows you to take amazing pictures even in low light and dark environments. iPhone 4 lets you record and edit incredible HD video and the popular tap to focus feature now works while recording video. You can use the iPhone 4's LED flash for both still photography and video recording. The new iMovie app for iPhone lets you combine movie clips, add dynamic transitions and themes and include photos and music, and users can buy it for just $4.99 through the App Store right on their phone.


FaceTime is as mobile as your phone, so you can see your loved ones and friends anywhere there is Wi-Fi. Using FaceTime is as easy as making a regular voice call, with no set-up required, and you can instantly switch to the rear camera to show others what you are seeing with just a tap.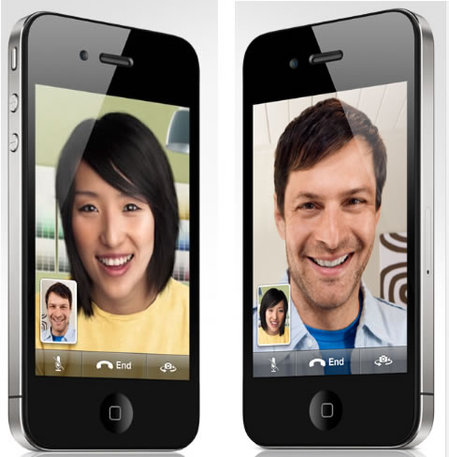 iPhone 4 delivers an amazing seven hours of talk time on 3G networks, up to 10 hours of web browsing on Wi-Fi and up to six hours on 3G, and up to 10 hours of video playback and up to 40 hours of audio playback. iPhone 4 features a second microphone and advanced software to suppress unwanted background noise for improved call quality when in loud places. iPhone 4 also offers 802.11n Wi-Fi networking and adds quad-band HSUPA to provide 7.2Mbps downlink and 5.8Mbps uplink capability.


iPhone 4 comes in either black or white and will be available in the US for a suggested retail price of $199 (US) for the 16GB model and $299 (US) for the 32GB model in both Apple and AT&T's retail and online stores, Best Buy and Wal-Mart stores. iPhone 4 will be available in the US, France, Germany, Japan and the UK on June 24 and customers can pre-order their iPhone 4 beginning Tuesday, June 15 from the Apple Online Store or reserve an iPhone 4 to pick up at an Apple Retail Store. iMovie for iPhone will be available on the App Store for just $4.99 (US).
---
---
---