Fujitsu ARROWS S EM01F high-spec smartphone features a smooth touch-panel response and a stunning display

Fujitsu today announced that the new ARROWS S (EM01F) from Fujitsu Mobile Communication.The ARROWS S (EM01F) runs on the ultrafast EMOBILE 4G-S data communications service and feature a quad-core 1.5GHz Snapdragon S4 Pro APQ8064 processor. The new smartphone is capable of download speeds of up to 76Mbps via the EMOBILE 4G-S LTE network. The ARROWS S EM01F features a one-touch Pocket WiFi widget tethering function that allows the phone to be easily used as a Wi-Fi router.



The smartphone's 1,280 × 720 pixel HD display employs Super Clear Panel, which eliminates the layer of air between the LCD and touch panel. This, in turn, reduces the amount of reflection and dispersion created by ambient light, allowing for even more vivid colors. The phone also features the latest high-performance graphics processing engine that enables advanced color correction and clear texture rendering.


Users can enjoy all kinds of visual content—including One-Seg broadcasts, videos, and still images from the phone's picture gallery—with natural and realistic colors and textures.


The new smartphone ARROWS S EM01F comes with the Fujitsu Human Centric Engine, which delivers optimal usability through cutting-edge sensing technology. The Human Centric Engine delivers convenient features such as Awaseru View, which adjusts the display's color based on the user's age, and a support feature that prevents mistaken input from inadvertent touches, even if the user's fingers accidentally touch the edge of the screen.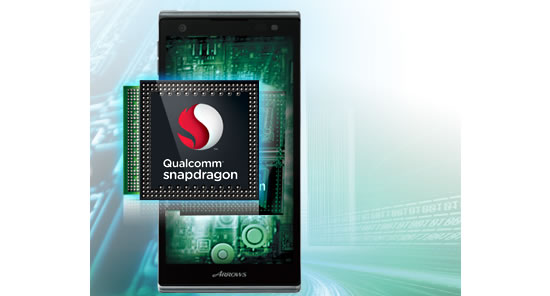 The EM01F's high-performance 13.1 megapixel camera employs an intuitive user interface and reduces blur and out-of-focus images, which can be encountered when capturing pictures in low light. As a result, even beginner users can easily take stunning photographs. The handset comes equipped with a high-capacity 2,420 mAh battery, and by utilizing the included NX!eco application, which can integrate and configure separate power-saving settings, users can also enjoy the smartphone without having to worry about battery life.


The smartphone comes loaded with a host of convenient features, including a scratch- and fingerprint-resistant Ultra Toughguard plus coating, water-resistant (IPX5/ and dust-resistant (IP5X) technology, DLNA connectivity, One-Seg broadcasts, Osaifu-Keitai , and infrared communications. The ARROWS S EM01F will be available from EMOBILE stores and retailers across Japan from August 20, 2013.
---
---
---