LG Display Launches 5.5-inch QHD LCD Panel with 1,440 x 2,560 resolution for Smartphones
LG Display has launched a QHD (Quad High Definition) LCD panel for smartphones. The new 5.5-inch QHD LCD Panel for Smartphones represents a quantum jump in terms of key features, including color gamut, brightness, contrast ratio, touch function, power consumption and thinness. The display provides richer and more accurate colors with a 120 percent color gamut, exceeding the 100 percent gamut offered on conventional panels, for mobile devices (based on sRGB).The QHD display has 1,440 x 2,560 resolution, four times higher than HD resolution (720 x 1,280), and the number of pixels per inch is 538 PPI (Pixels Per Inch) on the 5.5-inch panel size. LG Display employed three leading technologies to achieve the superior specifications of the new display: high color gamut LED, Advanced In-Cell Touch (AIT) and photo-alignment.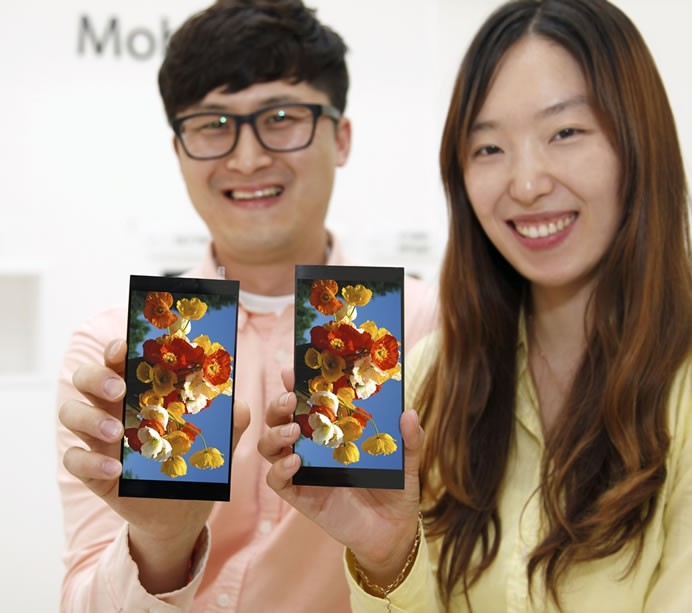 The new panel with Advanced In-Cell Touch (AIT) technology offers excellent touch sensitivity so that it can respond to touch commands even with water drops on the screen. The display boasts advancements in other major image quality features, with a contrast ratio that is 50 percent higher than conventional QHD LCD panels, while the brightness has increased by 30 percent without any increase in power consumption. LG Display received certification from Intertek, the leading provider of product safety testing and certification, for the superiority of the color gamut, brightness, and contrast ratio in the 5.5-inch QHD LCD panel. LG Display has started the mass production of the 5.5-inch QHD LCD panel with IPS technology for mobile devices that will be used in LG Electronics' forthcoming flagship smartphone to be unveiled at the end of the month.
---
---
---