LG launches G3 smartphone with worlds first innovative Laser Auto Focus camera
LG today introduced its eagerly anticipated G3 smartphone, the successor to LG G2. Developed under the Simple is the New Smart concept, LG G3 is a culmination of consumer research based on LG's product development philosophy, Learning from You. With a pixel density of 538ppi, the G3's Quad HD display sets new viewing standard producing images that are sharper and clearer than traditional smartphone displays. At 5.5-inches, LG G3 boasts a screen ratio of 76.4 percent with thin bezels all around so the phone feels as comfortable in the hand as a smaller traditional smartphone. LG equipped the G3 with a 3,000mAh removable battery and advanced optimization technologies to further maximize battery efficiency.


The G3's advanced 13MP OIS+ camera is designed to quickly and easily capture life's special moments as they occur, not necessarily when you want them to occur. This is made possible with G3's innovative Laser Auto Focus, the first of its kind in the smartphone industry. This technology enables the G3 to capture the best moment ― even in low light ― by measuring the distance between the subject and the camera using a laser beam. Combined with the proven and popular OIS+ technology first seen in the G Pro 2, the G3 is sure to impress even the most discerning shutterbugs. LG also simplified the process of actually capturing those special moments. Rather than having to focus on the subject in preview mode and then pressing the shutter button, with the G3, tapping the subject to focus will simultaneously also trigger the shutter.

For video, the G3 offers superior sound quality with instinctive microphones that measure the environment to identify the optimal audio level for the clearest recording. And with the built-in 1W speaker with Boost AMP, users can enjoy videos and music accompanied by richer sounds and clearer tones. The Floating Arc design of the G3 with its ergonomic arch and slim side profile provides an extremely comfortable grip for everyday one-handed use. The Rear Key continues to anchor LG's innovative design language, with a newly designed power key and volume buttons as well as more premium quality materials and finish.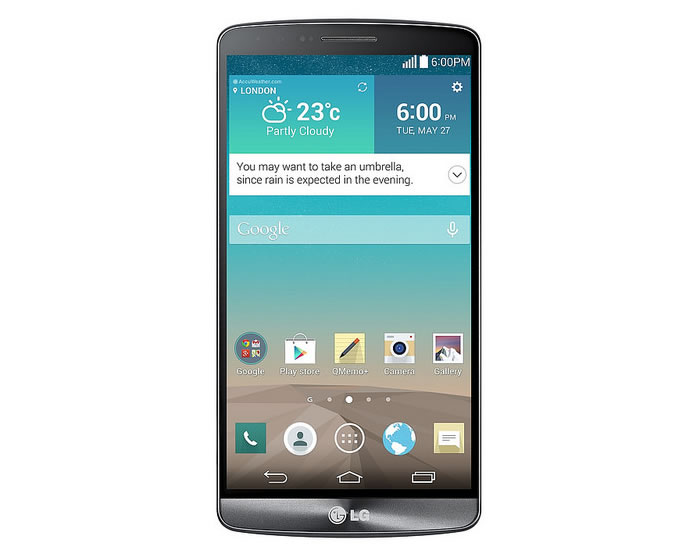 Like a personal assistant, Smart Notice provides suggestions and recommendations based on user behavior, phone usage patterns and location to offer user information when it's needed the most. Smart Notice can remind user of a call you declined earlier and ask if you would like to call that person back. But what sets Smart Notice apart from other personal assistants is its natural language capabilities. For example, instead of just displaying today's temperature and weather forecast, Smart Notice will make a recommendation such as, You may want to take an umbrella today since it will rain this evening.

Knock Code enables users to unlock their device with a pattern of taps. Merging security and convenience, users can create a personalized code that can be entered anywhere on the screen.Kill Switch gives G3 owners the ability to disable their phones remotely in the event of theft. The Kill Switch also allows content on the G3 to be wiped so personal information won't be compromised. Kill Switch also includes antivirus scanning and remote wipe and lock, among other essential features. LG will also be offering a collection of new premium accessories to accompany the LG G3: QuickCircle Case, LG Tone Infinim(HBS-900) and Wireless Charger. Starting on May 28 in South Korea, LG G3 will begin rolling out worldwide on over 170 carriers.
---
---
---